HUMPHREY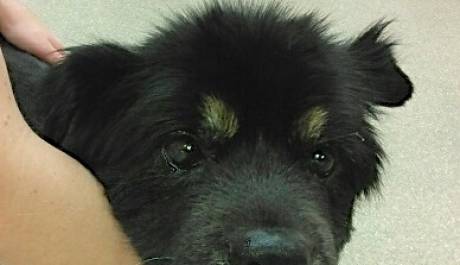 I apologize for it taking so long for us to have an update on Humphrey. His liver and gallbladder were in such horrible shape that at one point, we thought we were going to lose this wonderful dog. We have had every Specialist around helping us with his case. The first thing we had to do to save Humphrey was to remove his gallbladder and have a biopsy done. During the procedure, a liver biopsy was taken and sent off. The surgeon said it was the largest gallbladders he had ever seen. Once we removed the gallbladder we still had to determine what was destroying Humphrey's liver. His liver was in terrible shape, and his liver values were through the roof. He had some form of liver disease with an unknown cause. We did every test known to man and contacted every Specialist we could think of to help us save him. It didn't matter what we did; our sweet boy was not responding to any protocol. His hair was not even thinking of growing back, and his skin was still black and smooth.
We finally got a break when Humphrey's Doctor, Dr. Emily Johnson contacted a Liver Specialist at Cornell for a second biopsy opinion. She found something that no one else had. Humphrey's gallbladder was destroyed, and his liver enlarged because of LIVER FLUKES. Flukes are a parasite that animals can pick up from water that is infected from livestock. Humphrey was dying from having the parasites for so long.
I am happy to report we have our sweet boy on a protocol to rid his body of the flukes, and it is WORKING. He is tolerating the medicine well, his liver values and moving into the normal range, and his HAIR is growing back. I cannot believe he is growing hair.
Humphrey is doing so well that if he continues the way he is, he will be able to go to his FOREVER home in two weeks. We are all doing our Happy Dance for this wonderful boy. He has felt rotten the entire time we have had him, and he is finally getting better.
We never give up on any animal that we take in. Humphrey still has months of taking his medicine to restore his liver and rid his body of the parasites but now he has a chance to LIVE. Thanks for caring and being part of his Journey to Survive and Thrive.
Learn about our other amazing animals