KC (Mini Schnauzer)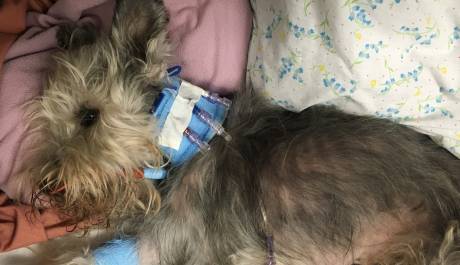 I am happy to report that sweet KC is improving a little bit each day. His intestinal issues had gone on for so long that his Albumin levels were way too low for him to survive. We had to do an Albumin Transfusion last night and are prepared to do another one if his levels do not improve. KC started to feel better and began to eat small amounts of food during the procedure which is a good sign.
Today he walked a little bit and also postured as if he was going to go to the bathroom, but was unable to. The fact he felt like going, means his Gastro-Intestinal system is started to respond to him eating food. We are not expecting his system to go back to normal for quite a while. Baby steps are what we like to see at this stage. His abdomen is no longer distended, and he appears to be very comfortable.
KC is still critical and in ICU. He needs to be five days post surgery before feel like the worst is over. At this stage, we are feeling good about his outcome but are doing our best not to get ahead of ourselves. There are a lot of variables that can go wrong from such a difficult procedure. Each day that passes without Medical Intervention, other than his pain meds, antibiotic and motility drugs is a great day for KC.
I have gotten a lot of notes from people wondering if KC will go back to his Owner. The answer is definitely yes. His Family did nothing wrong and did everything they could to save him. We had them fill out our Adoption Application and Contract to make sure we were not missing anything. They are a good Family for any dog, not just KC and therefore will be allowed to Adopt their dog back once he is out of the hospital.
KC's road to recovery is going to be long, and he may not have a full recovery. We do not know the original cause for the scar tissue that he had. His biopsy is still pending, but the preliminary report does not indicate cancer. We may never know what started this Train Wreck so to speak. We have removed the area that was causing the blockage and joined two healthy areas back together.
We will do another update as soon as we get his final report. KC will have to remain in ICU with 24-hour care until the Specialists feel he is stable. Thanks for caring and helping us help this Family save their beloved Dog. We greatly appreciate your Love and Support.
Learn about our other amazing animals