Lamb Chop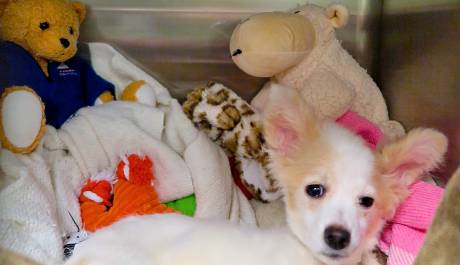 Sweet Lamb Chop has been moved to a Hospital in Savannah, GA where she can get different forms of rehab. One modality she can now have is Acupuncture that they offer at this Clinic. We have decided that if we can raise funds for more rehab we will keep her there for several more weeks. Our sweet little Angel is taking baby steps each week in her recovery to walking. Her Neurologist thinks her progress is within his range of improvements so her shunt will not be adjusted again for another month. He will only consider an adjustment sooner if she shows signs of going backward. Adjustments have to be closely monitored. If an adjustment is made that removes too much fluid from her brain too soon, she will have irreparable damage that she will not be able to recover. In other words, we can't put fluid back that has been removed if she has suffered from too much fluid loss. We are taking it very slow to get the best possible outcome.
We have also ordered a special cart for Lamb Chop that should arrive in about two weeks. The cart will allow her to walk without assistance on her own and build up her leg muscles.
The other news this morning is that I have decided that since Lamb Chop is taking much longer to recover from the Hydrocephalus, she will have to be placed close to where she is doing rehab. We are now taking applications from people that are within approximately 60 miles of Savannah, GA. She needs to be available to her Specialists in case something traumatically happens. Since our sweet little girl will always be a Special Needs baby, we are very selective in any potential candidates. If you think, you have what it takes to bring Lamb Chop into your Family, please, fill out our Adoption Application online.
Thanks for caring about this wonderful little girl. She has stolen the hearts of many.
Learn about our other amazing animals