MARY LOU (Pitbull)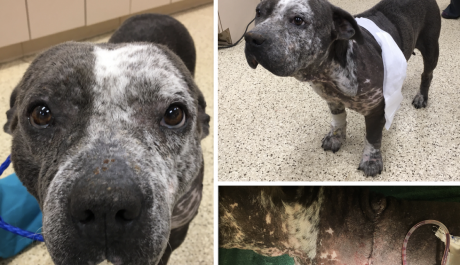 Sweet Mary Lou has had complications from her tumor removal and had to have Emergency Surgery late last night. Her incision site opened up in several areas, and the ER Team decided they needed to take a better look to see why she was still draining as much as she was. When they got in, they found a massive blood clot that had formed under the skin that was putting more than normal pressure on the surgical site. The clot was removed, and an active suction drain was inserted to help her heal.
The biggest problem we have to deal with in dogs that have massive tumors is the tissue where the tumor was is no longer normal tissue. It does not want to heal properly if there are still tumor cells in the area. Dr. Nanfelt could not get clean margins because Mary Lou's tumor was too large. Once Mary Lou's incision site has healed, we will consider Radiation since her cancer had not spread to her organs. It all depends on how well she does over the next couple of weeks.
Radiation is expensive and has complications that come with doing it. The only reason to do it is when you cannot get all of a tumor that is active and can spread to other organs. Sadly, the size of the Mary Lou's tumor had grown so large that the only way to get all of it would have been to amputate a leg that was otherwise healthy. That was not something I wanted to do without trying to get all of the tumor surgically first.
Right now, our top priority is to get Mary Lou over the first part of her recovery. We had hoped we could bring her back to our Rehab Center today, but that is not going to happen. She will have to stay in ICU until she has gotten through the immediate crisis we are dealing with now.
Mary Lou is a fabulous dog that loves everyone. There is no excuse for someone to have allowed her tumor to grow to the size it was. To then discard her to be euthanized without a second thought is inhumane. Mary Lou will get through this setback but needs all of our prayers for her incision site to heal from this point forward.
We were not prepared for her to have more surgery so soon or to be back in ICU. Please, DONATE whatever you can and send to your friends so they can also help us with this sweet dogs Medical Care. Mary Lou has several good years left to get the unconditional Love and Care she has always deserved. Thanks for caring and giving this special older pup, her chance at a great Life surrounded by people that will Love and Adore her, forever.
Learn about our other amazing animals