MERCY (Mini Plott Hound)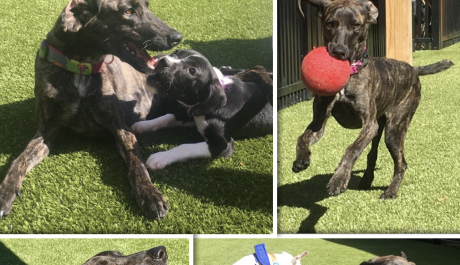 It seems like no matter what we do for certain dogs that have had massive injuries, the results we had hoped for, never happen. That is the case with fabulous Mercy. The spinal surgery was a big success given how long she had been that way. It alleviated an unimaginable amount of pain she had been experiencing since she was hit by a car. Unfortunately, all the pins and plates in the world are not going to help this special pups leg.
Mercy has re-fractured her leg after being on restricted exercise and now the day has come the leg will have to come off. This wonderful, energetic pup has been a tripod since this adventure started. She has used the leg only when there has been a brace or cast on it to allow the leg to heal. That leg is NEVER going to get better. After talking to all of the Specialists that have been involved in her care, they each agree this is the best outcome for Mercy.
Mercy is the most amazing mini Plott Hound that wants nothing more than to run and play with her Buddies at Noah's Arks Rescue. The puppies think she is the best chew toy and continue to crawl all over her. Once her surgery site heals, she will officially be ready to be adopted and can run and play to her heart's desire.
We have a fortune in this beautiful young pup and are going to have more removing her leg. Please, Donate whatever you can so we can dig ourselves out of the hole we are in. Each pup we have taken on recently has had massive amounts of surgery bills. We are committed to the animals in our care and have yet to turn our backs on any of them. Please, Help us with all of these Medical Costs.
Learn about our other amazing animals