MERCY (Mini Plott Hound)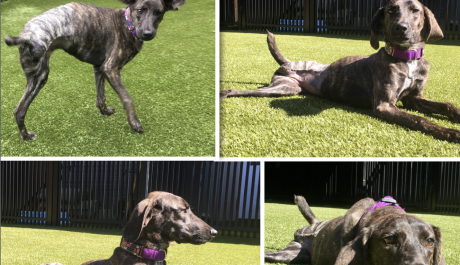 MERCY feels like a Million Bucks since we amputated her leg. This poor pup has been on restricted exercise for almost two months. Every time she would be allowed to run around, her leg would fracture again. It was a vicious cycle that was never going to give us the outcome we wanted for her. If I had it to do all over again, I would still have done all we did to give her the best possible chance of keeping the leg. Sadly, her bones and tendons had been broken and damaged too badly for them to ever heal properly.
The best news of all was that right after surgery (when Mercy came out of her anesthesia) she got up and walked. It was as if she had never had the leg in the first place. Being able to allow this precious tiny girl to RUN around free as a Bird put a huge smile on our faces. Mercy did so well after her surgery that we allowed her to go to the Adoption Event this past weekend.
Mercy will be back at Petsmart in Hardeeville, SC this Saturday to show off her new skills as a Tripod. All she needs now is a Family she can call her own. She loves playing with other dogs and is great with kids. Her small size is perfect for anyone that has a small place. All she cares about is running around, chasing a ball, playing with other dogs and showering you with non-stop kisses. Mercy can play a little rough because of her youth, so we don't want her playing with a dog with an attitude.
If you think she would be right for your Family, please drop us a note or fill out her Adoption Application online. You can also go to Petsmart to meet her this weekend. Her tiny size, beautiful brindle color, and sweet disposition wins Hearts all the time.
Thanks for caring and giving Mercy every opportunity to heal from her massive injuries. She can run and play and LOVE because you cared.
Learn about our other amazing animals