RUFUS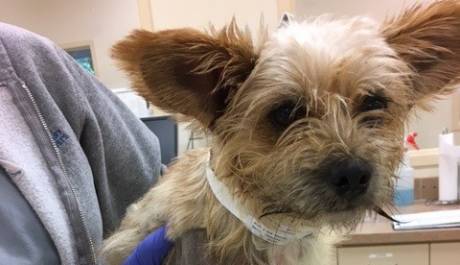 CHARLOTTE, NC..... We were contacted about an adorable 2-year-old Yorkie Mix that had been hit by a car. The Family gave Rufus to their neighbor when they decided they could not fix him. He was with the Family for approx. a week before they decided they could not afford his care. This poor pup was crushed by a car, has several broken bones in his leg and pelvis and is in unimaginable pain and is moved from one person to the next. He finally ended at Carolina Veterinary Specialist where he was signed over to them. To say little Rufus is like Humpity Dumpity that needs to be put back together again is an understatement. He has a thousand things going on that needed to be fixed. He also had a lot of ligament damage that is going to be an on-going problem because of the length of time he was left without medical care.
The Family that ended up with Rufus wanted him to be put down for lack of funds. We were contacted by some very impassioned Vet Techs that had fallen in love with this wonderful little dog. I decided he needed to be at least given a chance to survive this horrible ordeal. Rufus spent the first week in ICU getting comfortable and stable. The hardest part was getting his pain under control. The Surgical Team did a thorough evaluation to see what could be done to put this sweet little dog back together.
Rufus had a deranged stifle - cranial cruciate ligament injury, caudal cruciate ligament injury, medial meniscal injury, medial collateral ligament injury and bruising to the lateral collateral ligament. Rufus did well with the surgery and was kept in ICU until he was taken off his IV meds. His pain level has improved dramatically, but he still has a lot of rehab in the coming months to get back as much movement in his rear leg as possible. Because Rufus was forced to live with his injuries, he began to compensate by carrying his rear limb. Over the next couple of months, we are going to have to encourage him to use the leg.
Rufus is the sweetest little guy that wants nothing more than to curl up in your lap and sleep. He is finally beginning to realize that his body is not as painful as it used to be. Each day he gets more comfortable with us working with him. He is still not happy about walking but is happy about the love and treats he gets when he does.
Rufus's Medical and Surgical bills are very high because he had to stay in ICU for so long. The worst part is over, but he still has a long way to go before he is well. No one else wanted to step up because the cost of saving him was going to be so costly. We never want to see an animal EUTHANIZED because of lack of funds if Medical Care is available to help them. Please, help us with his bills by Donating so we can help more dogs like Rufus.
Thanks for caring and making his Journey to Survive and Thrive, possible. We greatly appreciate your Love and Support.
Learn about our other amazing animals