RUFUS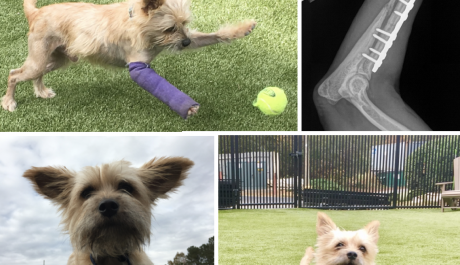 This adorable little pup had some of the worst leg injuries. When we first rescued Rufus, we knew it was going to be a long shot to get little Rufus's legs repaired so he could run and play. He has had to have bandage changes each week, and each week the pain is so bad that he is a Holy Terror. We are now convinced it is fear and not pain that causes him to freak out when you get near his leg. This past week we did x-rays to see how well the leg was healing. The bone looks great. It still has ways to go before it has completely fused together, but the x-rays clearly show the broken area is filling in. We were able to remove the hard cast and replace it with a soft bandage that will have to be changed each week until it can be removed permanently.
The leg is sore because Rufus can now feel any pressure that is put on the leg. He got to where he was running all over the place with the hard cast having the time of his Life. Removing the hard cast has made him slow down because he can feel the leg which is what we wanted.
Over the last two months, this little Holy Terror has become the most adorable pup on the Planet. He is a delight to be around when we are not changing his bandages. He loves everyone and every dog. He loves to jump, run and play and is quick to hop in your lap to give you lots of kisses. The little pup that we thought was going to be a Land Shark has become an adorable Angel. We love this amazing boy and are so happy to see him enjoying his Life and Healing. He greets us every morning with the best kisses and the cutest face you will ever see. His ears stick up like Bunny Rabbit ears and are always listening for the Treat Jar to rattle.
We have a wonderful home in New York waiting patiently for him to arrive. We hope he will be there in time for Christmas, but if not, he will get to Celebrate the Holidays with us at the Rehab Center.
Thanks for caring and making his Journey to Heal and find Love, possible. He has certainly found unconditional LOVE with us.
​Have a very blessed Holiday Season filled with Lots of Love and Laughter.
Learn about our other amazing animals