SNICKERS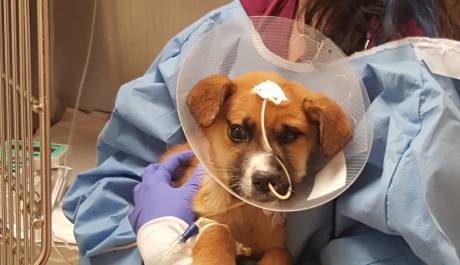 It is with incredible sadness I have to let everyone know that sweet Snickers lost his battle and has crossed over The Rainbow Bridge.
I got the best report since he was admitted 14 days ago that he was finally improving. He was sitting up and was a little more animated. He had a transfusion earlier, and he was considered stable. His blood and fluid values were not jumping all over the place which was very encouraging. He wasn't eating, but that was to be expected right after getting the plasma. I was sent great pics of him very alert and sitting up. About an hour after the great report, I was contacted saying he had a seizure, but they had given him medication and the seizure had stopped, and he was stable. Two minutes later, he quit breathing, and they immediately started CPR on him. I was contacted and told them to not crack open his chest but to continue manual CPR to see if they could get a heartbeat. They worked on Snickers for twenty minutes and did everything possible to bring him back. I instructed them to let him go at that point. He had given his all, and it was time to say good-bye.
Everyone is completely devastated over the loss. His big brown eyes looking so hopeful and fighting so hard. I am glad we did all that we could to save him and never gave up. His little body just wasn't strong enough, and he let go. Parvo is a terrible illness that is preventable. There is no excuse not to vaccinate a puppy and give them the best possible chance of never having it.
We still do not understand the seizures he was having before getting him. One of the Specialists wanted to send off a Distemper test which we allowed her to do. The results will not be back for a week. If he had Distemper that would explain the seizures, but there is nothing we would have done differently. We did everything possible and then some.
Thanks for helping us with this beautiful, sweet puppy named Snickers. He is finally free to run and play to his heart's content. Our hearts are fuller because of his Love and Kindness. He has his Angel Wings and can now join all the other Noah's Arks Rescue Family that went before him. When you look up in the clear sky tonight, look for the star that shines the brightest and is moving rapidly toward Heaven. That would be Snickers showing us all just how fast he can Run and Fly. Thanks for caring and making it possible for us to do all we did for this beautiful boy.
Learn about our other amazing animals