WILLOW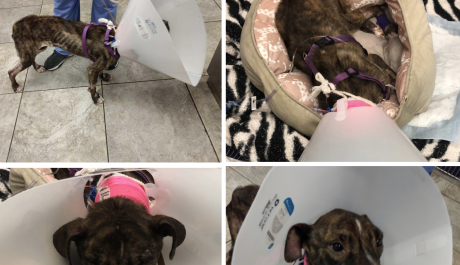 Every day with Willow has been a new adventure, medically and emotionally. I have never seen a sweeter dog that has fought so hard to be here and been so hard to save. The medical challenges to save him have reached an all-time high. Yesterday, his blood values tanked again in addition to his glucose. He is borderline on having Refeeding-Syndrome. He is right up to the edge where his body is fighting to come back, but chemically it got so out of balance that each level is swinging in the wrong direction.
On top of that, whatever he ingested is causing him to have an abdominal bleed. He is having a third transfusion today in hopes we can get him stable long enough for us to scope him to see what is in his abdomen, where the bleed is and the best way to get to it out surgically that is the least offensive. We have waited as long as we can to get whatever it is out which is killing him. Today is the day that one Surgeon and one Criticalist picked the short straw because they are on-call today and will have to do these procedures back to back.
The other issue we are having is our little pup is starving. Willow was fine until we started feeding her, but now that she has had food, that is all she thinks about and is willing to do anything to eat. Willow has the muzzle on not because she is aggressive but because she wants to eat her fluid lines and anything else that is attached to her. The cone is not enough to stop her. She is watched 24 / 7, and in the blink of an eye, she will get to a line and chew it. For her safety, we have no choice but to keep the muzzle on her.
Everyone at the hospital is in love with this little Angel that wants to live so badly. Her big eyes follow you everywhere you go with so much love and hope that your heart breaks for her. Every day, I get asked the same question, should we keep going because each transfusion and procedure makes the bill go higher and higher, and they are not sure of the outcome. Willow could have died months ago. We do not have tubes in her keeping her alive. She is alive now by her sheer will to live. As long as she is fighting and she has a chance at a full recovery and great Quality of Life, we keep on fighting with her.
I want to think it does not all come down to Money. Any other rescue would have stopped when she needed her second transfusion — saving an animal that has been starved and abused as much as Willow has, takes Money and Faith. I need for everyone to keep donating so I can focus on loving and saving her and not focus on the bottom line today and the next week. Willow is going to be in ICU for a while until we get what is in her stomach out and get her stable so she can come to our Rehab Center.
Today is a day for lots of Prayers and Donations. Please, do whatever you can for this sweet pup.
Learn about our other amazing animals