WILLOW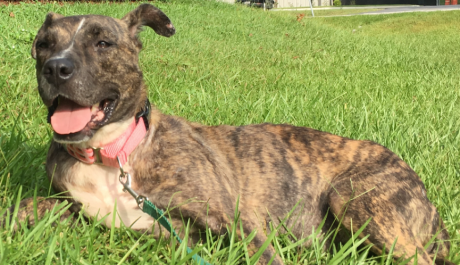 Adorable Willow is doing fabulous. She looks like a totally different dog from the one we rescued over a month ago. She started as a dog that could barely stand and is now a vibrant young pup ready to run and play.
Her first week with us was touch and go since she still wanted to eat everything in sight. Lots of small meals kept her from feeling hungry and took care of her craving to grab anything she could find to put in her mouth. Willow had been on her own for so long that she had adapted to eating anything she could to survive. The items she started consuming, such as rocks and metal, soon became her downfall.
Willow's transfusions gave her enough blood to enable her body to regenerate new blood. Our concern of her having a non-regenerative blood disease has finally passed. We believe the small bleed from the objects in her stomach and heavy parasite burden were the leading causes of her anemia. Her blood levels have stabilized, which has added to her new energy levels.
Willow has gained over 20 lbs. since we rescued her, she is now at a point where we have to cut back her food. She can have two regular feedings and sometimes will not even finish those. Her desire to eat objects has gone completely, and we have not had to use the muzzle at all over the past month. The other great news is she is allowed to play with soft toys and chew toys. Willow has become a regular pup in every way.
She is sweet, loving, and playful with everyone she meets. She is selective with the dogs she likes to play with but is not aggressive. I think it is more from her being on her own and having to take care of herself. She has not been mean to anyone she has met. Willow is going to make a great, loyal Family Dog for someone special. We love this beautiful pup and hate she had to go through such horrible treatment. The good news is she was not put down and now has the rest of her Life to be spoiled rotten.
Learn about our other amazing animals