WINSTON (Mastiff)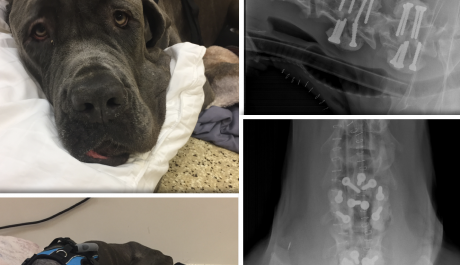 CHARLOTTE, NC....We were contacted about a 3.5-year-old Neopolitan Mastiff that a Family had adopted off of Craig's List. The mastiff was advertised as healthy but would have trouble getting up at times. The picture of Winston was very different than the reality. The Family had moved to New York and left him with another Family member that had apparently left the dog outside without care. When the new Family that got him off of Craig's List went to pick him up, they were shocked at his condition but could not leave him where he was. They did what they could, but he needed major medical which is why we were contacted.
Poor Winston has had a terrible time. He is about 50 pounds underweight and has terrible raw sores on his elbows from laying on a hard surface unable to stand up without assistance. His skin is in bad shape from being covered with fleas. Sadly, the reason why Winston has a hard time walking is that he has Wobbler's Syndrome. Wobblers is a neurologic disease of dogs that affects their spine in the neck region. It is the most common cause of neurologic disability in large breed dogs.
Winston has double Wobblers Syndrome that was confirmed by an MRI and a Cat Scan to determine his bone density before surgery. He was treated for severe 2 level cervical stenosis due to abnormal formation and movement of the facets (joints) in the vertebral column. This is called Facet Associated Wobblers Syndrome. The surgery consists of a ventral (underside of the neck) fusion of the two sites (C4-5 and C6-7) followed by decompression of the abnormal joints from a dorsal (back side of the neck) approach in addition to screw and bone cement placement dorsally.
His Neurologist Dr. Bob Bergman did his surgery over three days. The first surgical procedure was 8 hours, the next day was 4 hours, and three days later he finished with another three hours of surgery. Winston's situation was so grave that he was going to have to be put to sleep if we did not agree to proceed with surgery. His size and the condition he was in would not allow him to function normally without the procedures. Winston is still in ICU recovering and will be until he can stand on his own. He is going to require extensive Rehab once he can leave the hospital.
We agreed to take on Winston's care knowing we were his Last Resort. The Family that had him could not get him better. The Family that placed him on Craig's List should have never had a large dog like Winston in the first place if they were not going to guarantee his safety. Large breed dogs require lots of Medical Care because of their size. When they have an injury, it can be catastrophic. We are doing everything possible to get Winston walking again. He has a long way to go, but at least the surgery is behind him.
Treating dogs with Wobbler's is beyond expensive. Treating a dog with double Wobbler's is something we were not prepared for but agreed to do since that was his only chance. Please, DONATE whatever you can so we can get control of his bills. We are way behind on donations for every dog we have taken in. We can't save the animals we take in if we do not get funds to support their Medical needs. Please, Please, Please.....DONATE.
Learn about our other amazing animals