Angel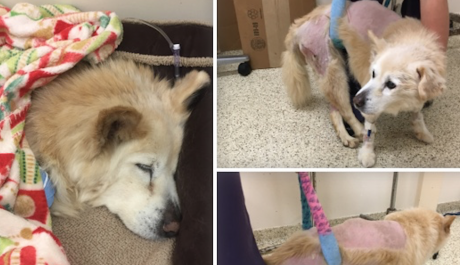 I am happy to report that dear Angel did well with her surgery. She had a large ruptured disk that was removed quickly by our Mr. Wonderful, Dr. Bob Bergman. Dr. Bergman got the ruptured disk out in less than 20 minutes. We had a Cardiology Specialist ready to take care of Angel if she showed any signs of cardiac stress. The best news of all is that she did well with the Anesthesia they gave her. She did not show any signs of distress which was amazing. This sweet girl was on death's Door when we took her in. She is now bright and alert and loved unconditionally. Her raw sores are almost ready to be closed. She loves her thick fluffy beds that cushion her bones.
Angel is showing signs of her motor skills returning. She can paddle her legs when laying down and can take a few steps with a lift me up harness. We are expecting her to improve gradually a little bit each week. She will start Rehab this week to build up her strength.
The first thing that has to happen now is to get her a Pacemaker. Dr. Sophy Jesty will be seeing her tomorrow for a full Cardio workup. She will then determine when Angel will be strong enough for the long heart surgery that will be required to put in a Pacemaker. In the meantime, Angel will be getting extensive Rehab to get this amazing girl walking again.
We have posted several videos so you can see her progress. Angel is determined to walk again, and we are determined to make it happen. Thanks for caring and making her Journey to Heal and Walk again possible. We have not received much in Donations for this sweet girl because of the Holidays. Please, DONATE whatever you can to give Angel the best Medical Care possible.
Learn about our other amazing animals