Angel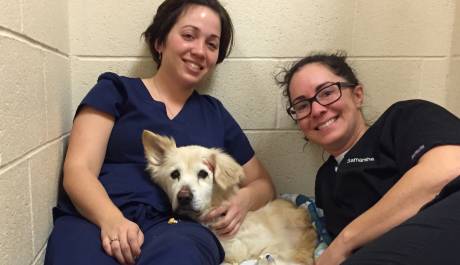 It is with incredible sadness we have to let everyone know that dear Angel crossed over the Rainbow Bridge. We were all so hopeful for this sweet girl. There was nothing we would not do for her. We had her at CVRC in Charleston for a month doing rehab and staying on top of her Staph infection. She was making great progress in every area except getting rid of the infection that had gone all through her body. The Rescue where she was prior to us taking her had allowed her to get pressure sores all over her body. The sores became infected with a Staph infection that was left untreated. The infection got into her blood stream and made it very difficult for her to heal. We were getting it under control, but the problem was that the medication was also damaging to her kidneys. Her kidney values were all over the place because of this. It was a balancing act that her body could not overcome. As much as we hated to say good-bye, her Quality of Life was never going to improve. We gave her all we had and in the end, it wasn't enough. The one thing she had that the Staph infection could not take away was the incredible love we each had for her. She was showered with it daily.
On the day we said Good-Bye, Angel had one last excursion to Charlotte to see her favorite surgeon and his incredible Staff. She barked and looked out the window and had the best day ever. Once she arrived, Dr. Bergman knew today would be her last. After shedding lots of tears, we agreed it was the best for our sweet girl. Angel was showered with unconditional love beyond anything you could ever imagine. She crossed over in the arms of people that loved and adored her.
She was the most beautiful dog that should have never been allowed to get as sick as she was. There is no excuse for taking an animal in and not staying on top of their care. If you have too many animals, then don't take in more. I see this all the time, and I have no tolerance for it. If you can't provide care, then you shouldn't take in an animal. In the end, the animal suffers unimaginable pain while in a so-called Rescue.
One thing I have learned over the years is that money does not guarantee great medical care. You have to always be on top of what is going on with your animals and be their voice. Let the Vets and Surgeons know what you expect of them and do not settle for less. If your Vet is not into the best possible medical care and love for that animal, then find another Vet that is. There are just as many bad Vets as there are great Vets. I have seen and been around them all. Medical School does not make you compassionate. It teaches you how to treat an animal medically but without love and compassion, the animal will never thrive.
We couldn't save our dear girl, but we did love her unconditionally. In the end, we loved her enough to say Good-Bye and ease her suffering. Angel knew we would not let her down, and we didn't. She is finally a beautiful whole dog again free of pain and suffering. Angel has her Golden Wings and is now in charge of looking over all of us. Go outside tonight and look for the star that has the most incredible glow all around it. That will be our beautiful Golden Girl Angel looking down with the sweetest smile on her face letting us know that she is finally Home.
Learn about our other amazing animals