DAPPLE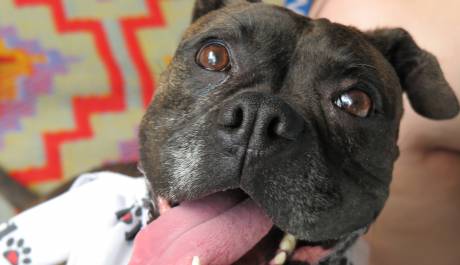 Our dear girl is finally done with her Radiation and ready to be Adopted. This sweet pup endured almost 12 weeks of radiation to get rid of any cancer cells that were near the area where the tumor was removed. Dapple had a massive tumor removed and then a smaller one that was found during the procedure. She just had her final check-up, and the Oncologist recommends a round of chemotherapy since they found active mast cells before radiation. We want to give this sweet pup the best chance possible to prevent any further mast cells from forming. She will do a low dose round of chemotherapy based on her Oncologists suggestions.
Dapple has not had any unusual side-effects from her Radiation Treatment. It was long and uncomfortable, but she remained in good spirits for most of the twelve weeks. During that time, she was treated for radiation burns that are very uncomfortable. We have Pain and Wound Care Specialists work with all of our dogs that are undergoing Radiation Treatment. We want to make sure we have their pain level under control during the worst phase of the treatment. I am happy to report that Dapple did great with all of her treatments. The scar that you see in the picture is from the initial surgery and radiation. We are not sure if she will get fur back in the area and will not know for about six months. She is adorable either way. We have a special balm that is made specifically for our Radiation Patients that gives them the best possible chance to grow fur back. Whatever happens, Dapple is alive to tell a great Story and will hopefully get to live a long healthy Life free of Cancer.
Thanks for making her Journey to Survive and Thrive possible. We greatly appreciate your Support and Kindness.
Learn about our other amazing animals