ERNIE (WH Terrier Mix)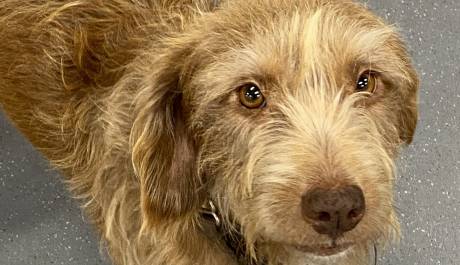 I feel like I can finally write a good report on dear Ernie. We have not had any setbacks in over a week. His Bowel Resection surgery has passed the window when bad things can happen. He can eat normally and go to the bathroom without any problems. He has not had any regurgitation in the last week, and we have cut out a few of his meds.

Ernie is still on heavy antibiotics since he became septic. He will be on those for several more weeks until his bloodwork shows he is no longer fighting an infection.
Right now, we are focusing on putting weight on this adorable pup. After his heartworm extraction and bowel resection, it became glaringly obvious how starved this precious pup was. Ernie was down almost 50% of what his weight should have been. This week we have made progress getting food in him that sticks to his ribs. Ernie is hungry all the time and is no longer on restricted small meals. We have to watch how much he eats at one time, but he can eat a lot to catch up on his weight loss.
With everything Ernie has been through, he should not be here. He should have passed away a month ago. I say Ernie is our Miracle Dog because he is. He is a sweet loving pup that never gave up or gave in to his hardships, and there were many. No home, No food, No medical care, and barely breathing because of the worm burden in his heart and fluid in his lungs.
We are getting lots of applications for Ernie from all over. We are reviewing them all to pick the best possible home. We were beginning to think we would place Ernie with the cat he had been living with once we were notified BCAC had caught the cat. The two were reintroduced today, and they were not having any part of each other. We are leaning toward him being closer to us if he had any medical issues related to his heart or colon surgeries.
Ernie will be with us until he has had his heartworm treatment and has regained all of his weight. Each day, Ernie gets stronger. He is a fabulous dog that everyone loves and adores. Your generosity made his Journey to survive this ordeal possible. Thanks for being his Guardian Angel. Warm hugs and much love from everyone at Noah's Arks Rescue.
Learn about our other amazing animals