ERNIE (WH Terrier Mix)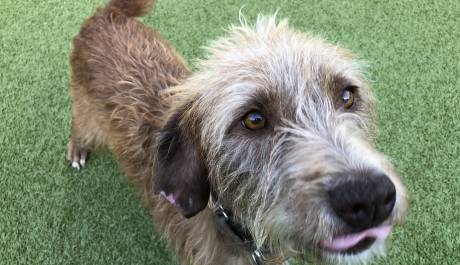 It is hard to believe we have had dear Ernie for almost three months. It has taken that much time to get weight on him, and he still needs to gain more weight. He has not had any complications once he healed from his bowel surgery.
Ernie's Journey to Heal and Thrive is one for the Record Book. His story is filled with Miracles every step of the way. The fact he was alive when he was captured is his first Miracle. He was in heart-failure from a massive burden of heartworms and a bowel obstruction. Ernie's second Miracle came when he survived the delicate procedure to remove 36 heartworms clumped together. Ernie only had a 30% chance of surviving the operation. His third Miracle came when he recovered. He only had a 50% chance of recovery.
We thought Ernie was finally on the mend and brought him back to our Rehab Facility. Two days later, we had to rush him back to CVRC for what turned out to be a Bowel Obstruction. Fortunately, he was in ICU when his bowel ruptured and was rushed into surgery. Ernie's chances of surviving the surgery after becoming septic were about 20%. He had a rough week in ICU but turned the corner around day ten. Miracle number Four was Surviving his Bowel procedure.
Miracle number Five is surviving all of the above. I am sure there are a lot more Miracles that got mixed into the Mix. We probably should add surviving the meeting we put together with the cat he lived with. Ernie was not happy about that interaction. He and the cat looked like they hated each other. We were lucky to find the cat and get him out of our facility and back with Beaufort County.
None of our pups are quick and easy saves, but Ernie was at the top for having the most complicated deadly procedures with low survival rates. Ernie never gave up or gave in when his Life was turned upside down. He knew he had found Love and was not going to miss out on one moment of kindness. On the other hand, I aged years from the financial burden and stress caused by his complicated procedures.
The excellent news is Ernie is doing fantastic. Dr. Jesty has approved him doing his heartworm injections over the next month. Once Ernie is done with his injections, we can reduce his heart meds and go to his new home. Life is Good for our dear boy. Now, if we can get everyone to Donate something, we can finish paying off his enormous bills. Please, DONATE, so we can help more pups so desperate they would eat anything to survive.
Learn about our other amazing animals