LILY (SHIH TZU)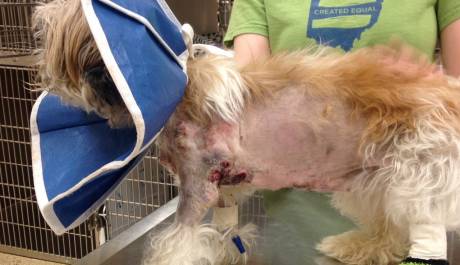 FAYETTEVILLE, NC....Adorable eight-year-old Shih Tzu abandoned in her kennel outside the Cumberland County Animal Control. Her Family no longer wanted her. Lily could barely breathe and had to be rescued immediately which is why we were contacted.
Lily was taken to Carolina Veterinary Specialists in Matthews, NC where she was immediately put in Oxygen in Critical Care. She was covered with open sores all over her body and would not use her front leg. We could not even determine what was wrong until we got her stable. She was taken out of oxygen every couple of hours for tests to be done and then was put back in. The first test was of her lungs which appeared to have fluid around them. The fluid had to be removed so Lily could begin to breathe comfortably. It took her several days to get stable enough where she could come out of the Oxygen Chamber. She was in such horrible shape that I was not sure if she would live through the weekend.
Lily finally began to improve and perked up considerably. We were able to do x-rays and skin biopsies of her lesions. We believe she has mammary gland cancer but have to wait for the final results to come back. Lily's leg shows an area in her bone that looks suspicious. If she does have cancer and it has spread, it does not appear to be in her lungs. We are talking to the Oncologists to see what we can do to give Lily the best prognosis. Our main concern right now is getting rid of the pain she has in her leg and stopping the cancer from spreading. Anything we do will be palliative only. The care is designed to make her comfortable but not take away from her Quality of Life.
This adorable pup has had a terrible Life. If she does have Mammary Gland Cancer, this could have been stopped at the sign of the first lump. Instead, someone has allowed her to suffer and get tumors all along her Mammary Glands. Lily was covered with fleas and ticks; her fur was matted, skin and bones and she was an overall mess. There is no excuse possible for not taking Care of this adorable little dog.
It seems like all we see lately are dogs that are covered with tumors that have burst. I am reminded of Albert Schweitzer's quote, "Think occasionally of the suffering of which you spare yourself the sight." when I see animals like Lily and Oliver. People choose not to see what is right in front of them. I think they honestly believe if they do not look at the animal, then the suffering does not exist. Well, open your eyes because the person not looking is the REASON the animal is in such horrible shape. It breaks my heart for this tiny little dog. When she needed someone most, they abandoned her in the middle of the night without a care in the World. Her breathing was so bad that I am sure she struggled all night long trying to get air in her little lungs.
Our main concern right now is getting her comfortable and keeping her that way for as long as we can. Please, Donate to give this little girl more time to heal her broken heart and get out of pain so she can enjoy whatever time she has left loving Life. Animals like Lily and Oliver deserve the best possible Medical Care. They have suffered long enough. We are no better than the people that turned a blind eye if we do nothing and put her down. She is a little fighter and has shown so much progress over the last two days that we are each very hopeful for her.
Learn about our other amazing animals