LILY (SHIH TZU)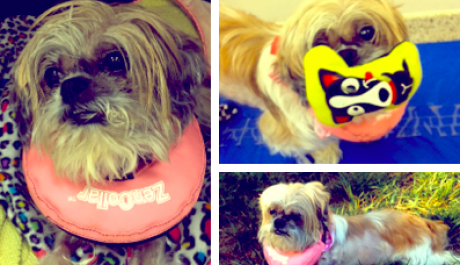 I am happy to report that dear Lily has had her last round of Palliative Radiation. The main reason for the Radiation was to ease the pain she had in her leg and to stop the masses on her abdomen from growing. It will slow down the cancer and allow an animal to get comfortable when nothing else seems to help. Lily has not had a great appetite since the day she was rescued. Her appetite has improved a little, but she still needs to put a lot of weight on. She is a lot smaller than she appears with all of her hair.
The masses on her stomach that burst have begun to dry up since we started the Radiation. We are not expecting them to go away but are working on healing the infected tissue. Poor Lily had some very raw areas under the top inside of her legs. Every movement she made caused the raw areas to open and drain. She is finally getting some relief.
The best news of all is that she is comfortable, and her adorable personality is coming out. I don't know when the last time was that she got to relax and play because her body was so damaged when we got her. We are finding out that once she gets excited about a toy, it is soon going to be a very unstuffed toy quickly. She loves to play and wants to investigate everything.
Lily's Oncologist has already started her on Palladia Chemotherapy. We feel that is the best Chemo for her type of cancer and the one that will give her the best results without making her sick. She will have to have bi-monthly bloodwork to make sure her body remains stable while on the drug and to make sure she does not become anemic.
When we first rescued Lily, we did not think she would live a month based on how bad she was. Now we are beginning to think she could live much longer based on how happy she is. Dear Lily is a beautiful sweet pup that looks at you with those big beautiful eyes and your Heart melts. We so wish she had come into our lives much sooner, but it wasn't meant to be. We are glad we have her in our care now so the rest of her Life she will be showered with unconditional Love and Support. When her time does come, she will let us know, and we will be there to gently ease her suffering and help her cross over The Rainbow Bridge.
Lily's Chemotherapy and Radiation are very expensive. Please, Donate whatever you can so we can cover the large bill she has at Carolina Vet Specialists. Thanks for caring and making her Journey to find love and get the medical care she needed, possible. We greatly appreciate your Love and Support.
Learn about our other amazing animals