Sadie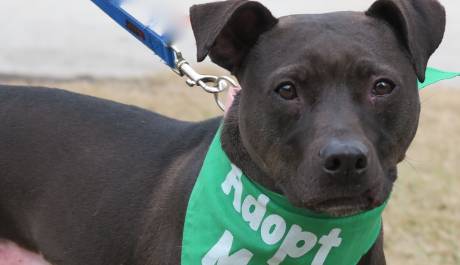 GREENVILLE, SC.....Sweet CHARITY was picked up by Animal Control and brought to the shelter in Greenville, SC. She is totally raw on her belly and in her hind quarters from what appears to be injuries from being dragged behind a truck or car. We were contacted by the Shelter Staff because they could not keep her since she had such extensive injuries. She had to be rescued immediately or she was going to have to be euthanized because her injuries were so bad. We had her picked up at 8:00 at night to make sure she got out and did not have to suffer any longer. CHARITY is an adorable little girl that only weighs about 35 pounds and is around two years old. We asked the shelter if anyone had been charged with this cruelty and they did not have any idea who did this to her. Without someone coming forward we may never know exactly what happened to her. The Vets that are treating her believe her injuries are from being dragged behind something. What we do know is that she has a long road of healing ahead of her. Her entire rear underbelly is raw. Some areas have worn the skin all the way though and surgery is going to be required to try and restore as much skin as possible. This wonderful dog was giving everyone kisses even though she was in terrible pain. We have her scheduled for surgery the first of the week and is in the hospital getting round the clock wound care. She also will have to have surgery for a cherry eye that she has but that is minor compared to what we are dealing with now. Infection is our biggest concern right now. Skin does not heal when infection sets in. Charity will be in the hospital being treated for as long as it takes to get her well. No creature should ever be tortured or hurt the way this sweet girl has. She is being medicated for the pain and kept comfortable during all of her procedures which require lots of wound cleaning and bandage changes. We are doing everything we can to turn her life around and shower her with lots of love and care. Right now she is happy to be alive and comfortable.
I am so happy to let everyone that sweet Charity is doing wonderful. Her infection is almost all gone and her skin has begun to granulate and form new skin in the areas where it was missing. Lots of proper medical care and TLC I am a firm believer can sure just about anything. Our sweet girl has been getting lots of both. She is still has a little bit of discomfort when we treat her wounds but that has gone done so much since the beginning that she now welcomes all the attention she gets and doesn't even whimper. I waited to send this around until I could send around a good picture that showed a lot of progress that did not upset anyone. Thanks for being so patient with us. As you can see from the picture, the bulk of the infection is gone and her skin has turned a pale pink, almost white color in a lot of places. The biggest one is still red but is filling in a lot since she first arrived. We are going to allow her skin to grow in as much as it will and then if we need to do more surgery on that area we will, but not until it has filled in as much as possible. Charity is a sweetheart of a pup that loves everyone that comes in contact with her. Her entire body shakes with excitement when she sees anyone. She will be at the vet for about three more weeks and then she will be ready to go to her new home. If you are interested in this wonderful girl, please, fill out our Adoption Application. She will be a wonderful addition to any family. Thanks for caring and sharing her story and helping us with her medical bills.
CHARITY is doing wonderful and ready for her new home.
Look how great her belly looks.
Learn about our other amazing animals