Sadie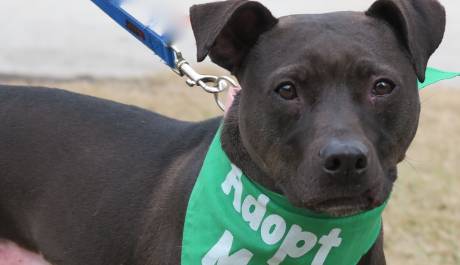 SADIE (once named Charity) - 5-year-old Stafford Terrier is looking for her Forever Home. Sadly, after 2 1/2 years, Sadie was returned from her family. We have now had Sadie back with NAR for two weeks. We have learned many things about her in such a short period. Many of our Volunteers remember Sadie, and amazingly, she remember's them too.
One thing we know, it is imperative to socialize your animals. With other people and with other animals. Sure, there may be some who will never accept other people or other animals. However, we try desperately to understand those special needs before they are placed in their forever homes. Just like in people lack of socialization can develop bad habits.
Sadie has some anxiety issues. We are working through them. By diligent work with multiple people, she is learning to trust and build her confidence again. She went to her first Adoption Event yesterday. She was the happiest we have seen her. She was able to be around other dogs, one even a puppy! She was around multiple people. She seemed at ease and eager to meet new people.
We are excited about the new possibilities for this sweet girl. If you think your home and family would be right for Sadie, please, fill out our Adoption Application online to be considered.
Learn about our other amazing animals