SIMBA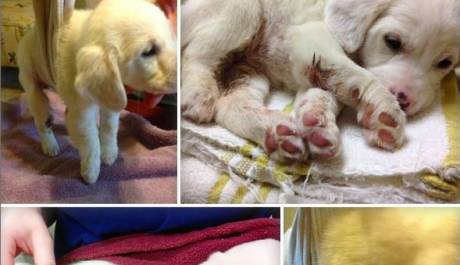 ​LANCASTER, SC……An adorable 5 week old Lab Mix puppy was abandoned with two crushed legs and left to die. We hear stories like this all the time. You would think we would get used to this but we DO NOT and never will. It breaks our hearts every time we get an e-mail that describes the most inhumane treatment of animals. Puppies are the most susceptible to the worst kind of cruelty because they cannot defend themselves.
We were contacted by one of our transporters that was contacted about a tiny little puppy that had been dropped off at a shelter in Lancaster, SC. The puppy had two broken legs and was in a back room not getting any exposure. Another rescue picked up the puppy to see what she could do but this was way out of her capabilities and we were contacted.
The story we were told is that a woman brought Simba into the shelter along with other puppies. The woman said Simba was a runt and her Mother had taken her out to the woods to die. She said that the puppy dragged herself back to her house with her legs broken. She said she was tired of seeing her drag herself around so she brought her to the Shelter. One thing is for sure, this is not what happened to this little baby. Both of her legs on the right side of her body are broken in several places. Simba cannot even drag herself one inch We originally thought maybe someone had stepped on her but her breaks are not consistent with that. If she had been dropped, her breaks would be different and she would have other bruises. She would be dead if she had been hit by a car. Her breaks appear to be more like someone broke them with their hands or an object. Whatever happened, she has been in terrible pain for the past two weeks.
We immediately had her brought to our vet and had x-rays sent to our Surgeon. To see Simba so helpless and in pain has really caused us all lots of heartache. After consulting with our Orthopedic Surgeon he informed us that these were terrible breaks in the worst possible places. It was going to be a long shot and she was going to have to have lots of surgeries because of her age. We went through all of the worst case scenarios with him and after lots of research and consultations, we opted to go forward with the surgery. Simba was just too healthy in every other way for us not to give her the best possible chance. She has a very long road ahead but the fact she is with us means she will get the best possible care from the best Surgeons and Rehab Specialist in the World.
Simba's surgery was very long and required several Specialists working on her at the same time. We didn't have any complications but we are in the early stage of her recovery. Her Journey to walk again has just begun and is going to be a long one. We need every penny we can get to insure we have what we need to keep going full speed ahead with her surgeries and rehab. Please, keep our little Angel in your prayers. Not only do we want her to walk again but we want her out of pain. Right now she is comfortable and relaxed and is enjoying all the support and love we are giving her.
Learn about our other amazing animals