SIMBA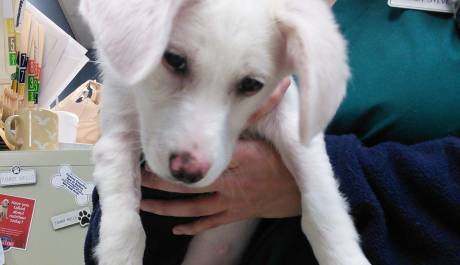 Our wiggly little girl is doing incredible. Surgery was done to remove all of her pins. She has gone from a little broken pup that could not walk to a non-stop little puppy that refuses to let Life get her down. She is moving non-stop all over the place. When we pick her up to slow her down and take her pictures, her little legs keep moving and she tries to squirm her way out of our arms.
We are all so excited with the outcome of the first procedures. We will not do any further surgery until she has grown more and we see how her legs develop. The surgeon feels great with the outcome and we are on Cloud 9 seeing this little pup out of pain and loving Life. We are going to finish with all of her puppy shots and then she can go to a new home. She will be spayed in about two months when the surgeon thinks it is appropriate. As she grows, we will be able to tell if she will need further surgery. That is something we will not know until the time comes. If she does need more surgery, we will get her back to her surgeon and get it done. We always take care of our animals when they have pre-existing condition.
Her DNA blood tests have been sent off and should be back in about 2 weeks. We will know at that time exactly how big she is going to be and what breed she is.
Thanks for caring and being a big part of her Journey to survive and thrive. Enjoy all of the pictures and the video on her web page. She is like a blur running through the Vet. Hospital.
Learn about our other amazing animals