Smiley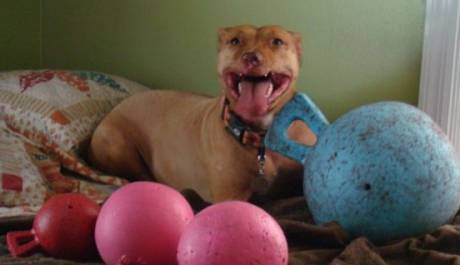 It is with incredible sadness we have to let everyone know that our dearly beloved Miley has crossed over the Rainbow Bridge. Miley was the most loveable dog you would ever meet. Her favorite thing was to carry around a stuffed toy in her mouth all day long and pretend it was her baby. Her next favorite thing was playing with her Jolly Balls. She could play with them all day long and never tire of the chase. Her only downside was that she was highly dog aggressive with female dogs. She has had several altercation with other females that were almost impossible to break up. Last night, she got out of her kennel while with her Trainer and went after another dog. The attack was so brutal that we are going to have to say good-bye to our dear girl. The other dog was fine, but Miley's face was so badly damaged that the surgeons cannot do anything to save her.
We are each in shock and saddened beyond belief this morning. I would do anything to save an animal if they would have a good Quality of Life when we are done. Miley would never have that and she would have to undergo surgery after surgery and would be on a feeding tube forever. I made the decision to do what was best for our sweet girl and let her go. The decision was one of the hardest ones I have ever had to make. The love we have for this wonderful dog is beyond what anyone could imagine. We saved her when no one else would and have loved her unconditionally ever since.
Smiley / Miley will always be a big part of Noah's Arks Rescue Family. She is now an Angel watching over all of us, just like she did with all of the pups she had over the years. Tonight, when you look up in the sky, I feel certain you will see many stars bouncing all over the place. That will be Miley grabbing her balls and running from one star to another with a smile on her face and love in her Heart. Our hearts will forever be changed because of the unconditional love she gave us.
If you would like to make a Donation in Miley's honor to offset her medical expenses, we would greatly appreciate it. The ICU Team worked tirelessly through the night to save her and get her comfortable. In the end, our final act of Love for her was to say Good-Bye.
Learn about our other amazing animals