ANNABELLE (CVRC)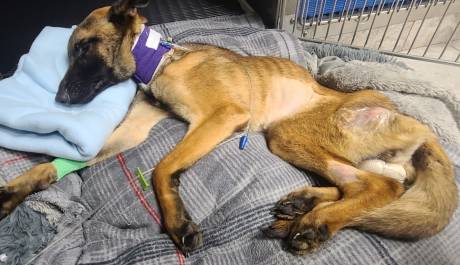 Sweet Annabelle has had a rough couple of days but always returns with more vigor than the day before. Every day is a new problem to be solved. The good news is once the issue is identified, the Specialists can act on the information to bring her values as close to normal as possible.
The biggest problem has been the pressure sores she developed before we took over her care. Emaciated animals do not have the padding necessary to protect the skin from hard bony protrusions. Eventually, the bone comes through, and the area has got to be addressed. Annabelle has had several surgeries to clean and debride the areas of the biggest concern. The larger raw areas have had special donut bandages sewn in to keep them from getting more significant. Every day the bandages have to be changed and the wounds treated.
Annabelle's blood transfusion has paid off significantly. Her bloodwork is progressing excellently, albumin is still coming up, liver enzymes are improving, PCV static, and electrolytes are great. Her blood glucose finally shows improvement and does not have us as concerned as we were initially.
Yesterday was the first day she gained weight. Annabelle has been eating since she arrived, but we cannot feed her the calories needed to maintain a normal weight until she is past the danger of Refeeding-Syndrome. Her critical care team feels she will be at full calories by midweek. So far, we are making incredible progress. Today was the first time Annabelle gave the slightest tail wag when her ICU Team walked in to begin their morning rounds.
Annabelle is becoming more animated and alert each day. She may take a few steps backward one day but increase several steps the following day. We are delighted with the progress that has been made so far. Precious Annabelle is loving all of the attention she is getting. Most of the day, she is curled up, sleeping, surrounded by blankets to keep her body temperature close to normal.
We must keep raising money every time we post since her bills are so high. Any amount is greatly appreciated and needed to get this precious pup the medical care she needs to survive. Thanks for giving Annabelle the Gift of Life.
Learn about our other amazing animals