ANNABELLE (CVRC)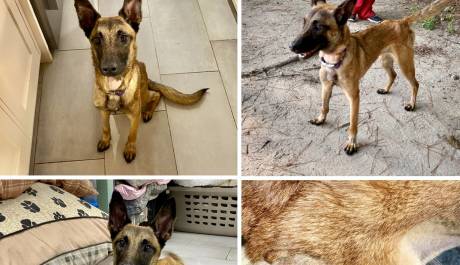 I am happy to report sweet Annabelle is gaining weight and is out of danger of Re-Feeding Syndrome. She has gained six pounds since she came to our Rehab facility. Yesterday was the first day she was allowed to eat high-end kibble, which she loved. We will also switch her feedings to three times a day instead of six since she can keep her food down.
Now that Annabelle feels better, we understand her personality better. She is a high-energy Malinois puppy that is curious about everything. When she plays, she plays rough with the other dogs. She will have to be around a very passive dog that does not mind the high energy of a puppy. She is also nippy as a puppy, so she can't be around small children.
Annabelle is a typical Malinois. She is extremely smart and agile, even as emaciated as she is. Once she began feeling better, she immediately told us she wanted to play. She would take her naps, but only when she had burned off some energy on her many walks. She has finally realized that the big cast iron dogs she passes in front of Fetch Mkt. are not dangerous to her. She does give them a stern look in case they come alive.
Over the next month, Annabelle should begin filling out and regaining much of the lost muscle mass. Each day, her personality and Spirit get a little brighter. She loves everyone she meets and wants to play with most dogs. If Annabelle is right for your Family, please fill out an application or drop us a note for more info. I have enclosed a link below for more information about the Belgian Malinois.
https://dogtime.com/dog-breeds/belgian-malinois
Learn about our other amazing animals