BLITZ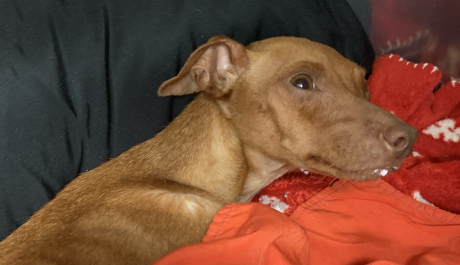 This last week at Noah's Arks Rescue is one I would never want to repeat. It was non-stop torrential rain for four days and cold. On top of that, we had two dogs that crashed on us and had to be taken to the ER in Charleston. It seemed like as soon as we would handle one crisis, another one would happen. A terrible week for everyone.
Adorable Blitz was our first crisis. He went from running and playing one day to not being able to stand, and his body temperature plummeted. We did not have time to get him to the ER, so we rushed him to Dr. Marikay at Port Royal Vet that was already familiar with sweet Blitz.
He went into an oxygen chamber and was put on supplemental heat to get him warm. His temperature had dropped to 85 degrees, which was not Life-Sustaining. They did everything they could to stabilize him so he could make the trip to the ER at CVRC. By late afternoon his temperature had risen enough to make the journey to Charleston. CVRC was awaiting his arrival and was shocked by how sick he was. Blitz was in Organ Failure for no known reason. He went from Vibrant to deathly ill in 24 hours.
Every test imaginable was done and sent off. The top of the list was for Addison's Disease. In the meantime, Blitz had developed Pneumonia and was also having kidney issues. Every phone call got worse instead of better, and this all started on Thursday morning. Every day, I knew I would have more information and would know precisely what he had so I could post something positive. Sadly, we still do not know what started this downward spiral. Blitz is eating, and his temperature is still not stable, but he is improving slightly.
Unfortunately, he will not be able to leave ICU or the hospital until we figure out what he has. We are not going to put Blitz down if we can save him, no matter the cost, which is a lot. We need everyone to Donate something to offset his Medical Bills. The Medical Bills we have received this past week alone, are enough to give anyone a heart attack. Please, Donate to every dog this week when I send a post around. We have six dogs in ICU we are doing our best to save, and we cannot do it without your Support. Please, Help Us, Help Them, by Donating.
Learn about our other amazing animals