BLITZ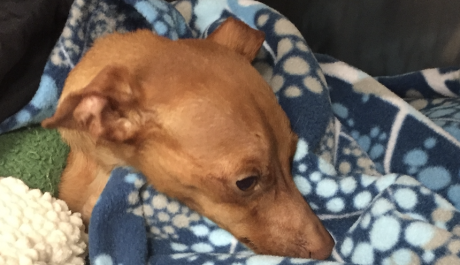 Sweet BLITZ is still critical and in ICU. He has the best Internists and Specialists over-seeing his care. A lot of medical conditions have been ruled out, but they have not determined what caused his drastic decline. Something is causing this special boy to be sick. Animals don't just decline without reason, albeit physical or mental.
CVRC asks us every day if they should continue with his care, and the answer is always the same. Until Blitz's quality of Life has declined to a point where he is suffering, we will keep working until we find a solution. We are each heart-broken for this special Angel. Unfortunately, he is losing weight, and he did not have any excess weight to lose. The biggest problem is he is not able to stand and play.
I feel like if we could find the problem, then we could fix it. We are sad and frustrated because we can't help him. We are not giving up on Blitz, but this poor boy needs lots of prayers to survive what is happening to his body. We are looking for tumors and any growths that could have been missed. Sadly, a lot of cancers are on a microscopic level before they are discovered. We have a pancreatic test that is still pending, but all of the other tests have come in.
Right now, Blitz is breathing on his own, but if that changes from his pneumonia, we will have no choice but love him as best we can and help him cross-over. No money has been spared for Blitz. Whatever his Medical Team thinks he needs, we are making sure he gets it. I am not going to stop searching for the cause of his illness because of a lack of funds. I know we can't save them all, but it still hurts when we have the best physicians around, and we can't come up with an answer to get him well. Please pray for dear Blitz, and if you can Donate toward his care, we would greatly appreciate the support.
Learn about our other amazing animals