BLITZ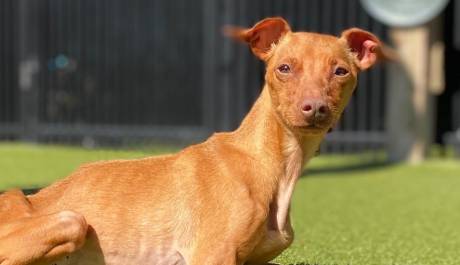 Beautiful tiny BLITZ has crossed over The Rainbow Bridge. He became oxygen-dependent and could not leave the chamber. Once that happened, I knew it was time to help this Gentle Soul cross over the Rainbow Bridge and give him his Angel Wings of Freedom. Blitz Medical Team was working round the clock to find a reason for his illness. Sadly, they ran out of time and did not have a medical reason for his multi-organ decline. They believe it started in his GI system and spread from there.
The good news is that during the time we had our sweet boy, he loved Life and was showered with unconditional Love. His quirky mannerisms made us love him even more. He became one of our favorites because we were always amazed at how well he could get around on his three mangled legs. His remaining rear leg became disfigured from a spinal injury he had when he was young. It may have looked like a chicken leg, but it enabled him to run all over the yard at the Rehab Facility at a rapid pace.
In the end, once I realized dear Blitz was not going to recover, my goal was to get him back to us at the Rehab facility so everyone and the animals he loved could say good-bye and send him on his way. Sadly, for us, that was not going to happen. No amount of medical care, money, or Love was going to fix what was going on in his body. Blitz had become a tiny, fragile Soul that could not be held for very long because of needing oxygen.
I always say the hardest part of loving an animal is not during the good years but the latter years when they depend on us the most. It is the time when our Love for them has to be greater than our Love for ourselves and living without them. We miss Blitz more than you could ever imagine. He crossed over in the loving arms of one of our Staff. She held him close, told him how much he would be missed, and then set him free to join all the others that had gone before him.
The Heavens got another Noah's Arks Rescue Angel, and we lost a piece of our Soul. Our Hearts will always be full of Memories of Blitz. There will never be another dog like this special pup that overcame every obstacle and learned how to live his Life fully. Tonight, when you look up at the Night Sky, look for the stars that appear to be hopping across the sky. That will be Blitz with his Angel Wings getting ready to fly like the wind. Our dear boy is finally HOME.
Learn about our other amazing animals