DUDLEY (Shepherd Mix)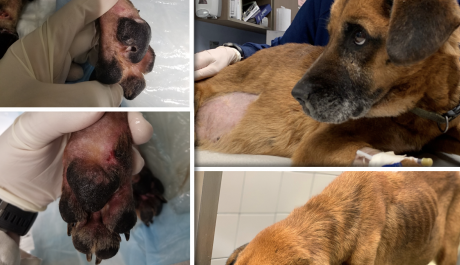 Sweet Dudley is still in ICU and will be for the next week. He did well during his procedure but is still very weak from his heartworm extraction procedure. Dr. Jesty will be doing another Echocardiogram to make sure all of the worms were removed and access how well his heart is functioning. Dudley still has a lot of fluid that had accumulated in his body that has to come off. Each day, the fluid is less and less. A lot of vital minerals come out when you have that much excess fluid. At this stage, he has to remain in ICU to closely monitor his vitals and his electrolytes.
The other critical issue we are dealing with is his feet. The pads on several feet are necrotic and peeling off. It does not appear to be from walking on something hot but more along the line of an auto-immune response. Dr. Gauthier is the surgeon that will be closely monitoring his feet and debriding tissue as he sees fit. At some point, he will have to surgically remove the pads that are necrotic and not sluffing off.
Sweet Dudley has a lot going on that will keep him in the hospital for a while. He has to be closely monitored by his Cardiologist to balance the meds that are taking some of the immediate strain off his compromised heart. Our hope is Dudley will only be on the meds short-term until his heart is healthy enough to take over. Once he is feeling better, Dr. Jesty will start heartworm treatment to rid his body once and for all of the parasite that created this havoc.
This fantastic dog allows the Vets to work on him without even a whimper. He showers everyone with kisses and is a delight to work with. Dudley was picked up in an area that had several other stray dogs that had been wandering around. He was the worst of the dogs that needed immediate medical care. If you can no longer take care of your pet, DO NOT abandon them. Take them to Animal Control and let them know their entire history so they can get the best possible medical care. Every dog has a Story. That information can mean the difference between Life and Death.
Thanks for caring about this sweet pup and all the other Abused Animals in our care. Your Support is what enables us to keep doing what we do.
Learn about our other amazing animals