DUDLEY (Shepherd Mix)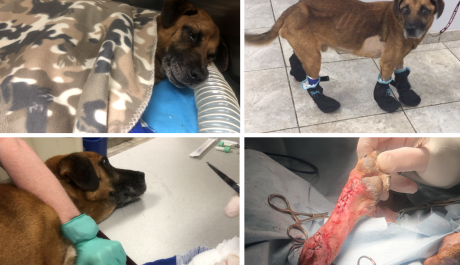 I am pleased to report that sweet Dudley finally got to have surgery to close the open wounds on each of his feet. We have had this sweet boy for almost a month, and when we rescued him initially, it was because of his congestive heart failure. Little did we know his real battle was going to be healing the open wounds on his legs and feet. He will have to have his bandages changed each day for another two weeks before he is out of the woods. The best news of all is we believe we can save the pads on his feet.
Dudley's Medical Condition went from Critical to making significant progress over the past week. He would not even stand up a week ago because of his heart and his feet. What we thought was a quick trip to the ER after he collapsed turned into two weeks. Charleston Veterinary Referral Center has jumped through hoops to give dear Dudley the best care possible. They have surrounded him with unconditional love and care since he arrived last month.
Everyone is elated with the possibility he might get out of the hospital in the next couple of days and come to our Rehab Facility. He will then be going in and out of the hospital based on how well his feet are healing. Removing the Heartworm's was just the beginning of Dudley getting his Life back. This sweet pup is not an old dog but is a young one that was severely neglected and abused.
We could not have done all we did for Dudley without your Love and Support. For that, we are forever grateful. Fingers crossed sweet Dudley will get out of the hospital in the next couple of days. Thanks for caring about Dudley and all the other Abused Animals we have taken on.
Learn about our other amazing animals