MAISY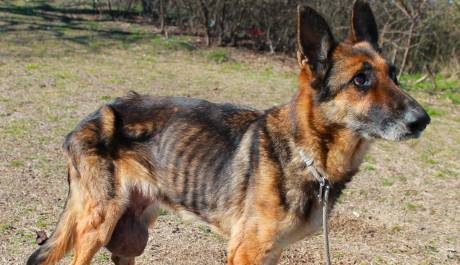 BENNETTSVILLE, SC……Sweet Maisy is 10 year old EMACIATED German Shepherd that was picked up as a stray. She is literally walking bones. To make matters worse, Maisy has a massive 5-6 pound mammary gland tumor that has to be removed. It is very obvious she has been starved from lack of food. What food she did get seems to be feeding her tumor. When Maisy was picked up and brought to the Humane Society of Marlboro County all she cared about doing was carrying a tennis ball around in her mouth to everyone so they would play with her. Forget about food, she wants to play. This is one of the most amazing dogs. She does not have one mean bone in her body. She is loving and sweet and has the most heartfelt eyes. She is PURE LOVE. As starved as she is, her Spirit is bigger than Life. There is so much Hope and Love in every action that she takes. She has not given up on Mankind and still believes we are the Good Guys.
Putting weight back on Maisy is going to have to be slow since she is so emaciated. Animals that go for long periods of time without food do not process food the way a healthy animal would. Their organs have started to compensate for the lack of food and you have to introduce food slowly so you do not shock their systems. Maisy is tolerating food and not having any issues with the amount she is getting.
Maisy is also high heartworm positive. We will not be doing any treatment on her at this time, other than doxycycline to help us later on rid her body of the heart worms. That is another medical issue that will be addressed once she has put all her weight back on and is healthy.
Maisy is an older Lady that really acts like she is about two years old. We just can't believe how happy she is that we stepped up for her. How anyone could have abandoned her with those beautiful Soulful eyes watching is heartbreaking. Our sweet girl will make the most amazing dog for any Family. Please, fill out our online Adoption Application ASAP if you are interested in welcoming her into your home to be spoked rotten for the rest of her Life.
Learn about our other amazing animals