Mr. Grumpy Conway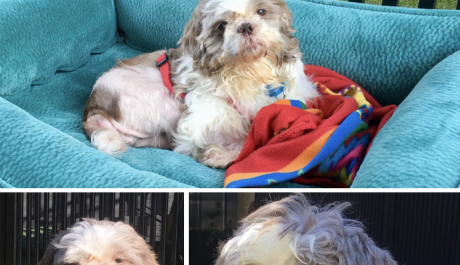 It looks like we can get rid of the Grumpy part of Mr. Grumpy Conway because he has been nothing but sweet from the day he arrived at the Rehab Facility. He is now officially sweet Conway that is healing from all of his abuse. This poor pup has endured a mountain of neglect from people that could have cared less about his medical needs. His poor rear-end still looks pretty rough from the neglect but we are hoping the neuter will allow his body to adapt and the swelling to go down.
Conway could care less about all of the Medical issues he has. He is delighted to have people loving on him and other pups he can play with. We have to allow this sweet boy's body to adjust to his neuter before we can attempt to remove the remaining tumors. The other issue we are working on is he has terrible skin from not being on any flea medications. His skin has been raw and itchy for probably most of his Life. We are making great progress in this area, and it shows how comfortable he is now compared to how he was in the beginning.
Conway has some loss of sight, but it does not bother him one bit. He has adapted to getting around at a slow pace that allows him time to visualize where he is going. His sight has improved since his face has been trimmed and his eyes have been treated. Lots of stuff going on that is positive for this sweet boy that has changed his entire outlook on Life.
Conway would be the perfect Family member for someone looking for a laid-back easy going older Shi Tzu. He loves his walks and all the attention he gets wherever he goes. If you think he would be perfect for your Family, please, fill out our Adoption Application.
Thanks for caring and making it possible for us to save this sweet boy. His days were numbered, and and we were his Last resort.
Learn about our other amazing animals