DELILAH (Chocolate Lab)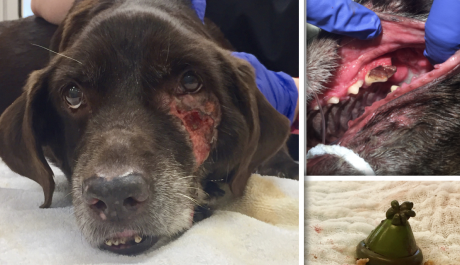 I was just getting ready to do an update on Delilah and post it in the morning. The title was going to be "Good-Morning Sunshine" since Delilah can now see out of her left eye. Unfortunately, when they went in to do her spay surgery, they discovered her abdomen had a foreign body in her stomach (intermittently obstructing her pylorus) and also had a mass-type lesion in her liver. None of this showed up on her Cat Scan that had been taken after she arrived.
Dr. Nanfelt was quite surprised when she found this. After the spay, she did an excisional biopsy of one of the liver nodular mass-effects on the tip of one of the left liver lobes and removed it with a surgical stapling device. Then she did an incisional biopsy of a good-sized intraparenchymal (within the meat of the liver) liver lesion on a different lobe. She then tackled the stomach foreign body which was the most adorable, plastic, firm, green elf hat (or something like that) that had a flower on top of it. God knows how long she has had this in her. It appeared it had just now moved into an area that was causing her to have difficulty and would not pass.
Her facial lesion has improved dramatically, and she blinks very well in the left eye. She can open her mouth more but does look like she is getting a fistula (which is expected after radiation). Her facial mass looks a thousand perfect better, and she much is more comfortable after the radiation.
Delilah has finished her Radiation, and she can see out of her left eye. She no longer has a large mass that is obstructing her vision or pushing her eyeball out of the socket. We could not be happier for this beautiful dog. We were hoping to reduce the size of the tumor to get her comfortable but have been blown away by the results we have gotten with the Radiation. Unfortunately, today's emergency surgery was not something we were expecting. The good news is that we removed the obstruction before it caused Delilah to become clinical from it.
Our sweet old girl, unfortunately, is back in ICU while she recovers from her surgical procedures. We are hoping and praying the biopsy results come back negative. It takes about a week for the final results to come in. We will get preliminary results in about four days. Please, keep Delilah in your prayers. She was doing so well and then to be hit with this. Thanks for caring. Any Donation to cover her Emergency Obstruction Surgery would be greatly appreciated.
Learn about our other amazing animals