DELILAH (Chocolate Lab)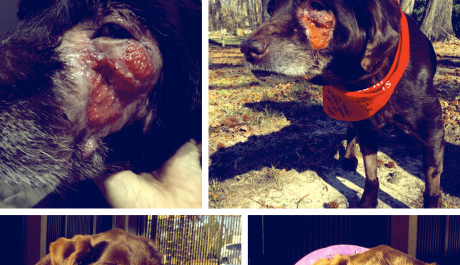 I am so happy to report that sweet Delilah is doing amazingly well. The tumor size has gone down significantly since she had her radiation and it has almost stopped draining. She has wound care about six times a day to make sure we keep her comfortable. She does not appear to have any pain associated with the tumor. The skin is still a little raw, but the red area is getting smaller and smaller each week. Delilah is feeling so well that we are going to start Palladia Chemotherapy treatment the following week.
About ten days ago I got a call from someone that claimed to know all about Delilah. The young lady explained to me that she and her Husband had divorced several years ago. Delilah was their dog along with a Bulldog. The Husband kept Delilah which they were calling Dixie, and the Wife got the Bulldog. Apparently, the Husband told her and their nine-year-old Daughter and all of his Family that Delilah had been put to sleep. A Family member had given him money to do the euthanasia and to pay to have her buried. Instead, it appears he just abandoned Delilah which is why she was found as a stray. The Family had Delilah since she was a puppy. The young Lady was moving to NYC and could not take Delilah with her.
Delilah is one of the sweetest dogs you will even get to meet. How anyone could have abandoned her in the condition, she was in is criminal. I could understand if you wanted to PTS because of the tumor but to abandon an animal that can only see out of one eye and is sick and scared is heartless. All of the Family knows we have Delilah and no one has reached out to see what they could do to help her. The entire scenario is cruel and inhumane. Families split up, and no one thinks about the animals that are caught up in turmoil.
The only good thing that came out of this is that we got Delilah and her cancer had not spread. She is a small, gentle Lab that follows us all over the place. She is so glad to have people looking after her and giving her Love that she has started to gallop around the yard to get to us faster. We don't know how long this wonderful dog will have, but we do know we will love her unconditionally and make sure all of her medical needs are met to give her a much longer Life. We LOVE this fabulous girl, and she knows it. Please, take the time to look at her video running around the back yard. She is happy, happy, happy.
Delilah will have her second infusion of Zoledronic along with her Palladia this coming week. I don't know why but we are feeling really good about this sweet pup. Her mood has changed, and she loves Life with us. She is part of a Family of people and dogs that love her to pieces. Delilah will remain with us for as long as she is thriving. We will not be looking for a Foster or Home for her because she has already been through too much. We are her Family now, and she will live out the rest of her Life without a care in the World with us. Thanks for caring and making her Journey to heal and find Love, possible.
Learn about our other amazing animals