DELILAH (Chocolate Lab)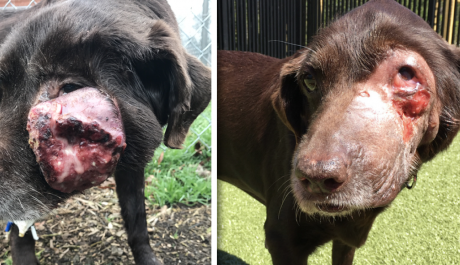 Sweet Delilah finished her week at Carolina Veterinary Specialist. She was kept in Emergency Care while she had her Radiation Treatment. It was a hard week for this wonderful girl for a lot of reasons. Delilah has gotten very attached to us and not having us around made her very depressed. She had the Oncology Team and the ER Staff looking after her, but it just was not the same.
A new Cat Scan was performed, and Radiation was done in a different area that did cause the Tumor to go down in size. The area that was bleeding was still infected, and her antibiotics were adjusted so we could get rid of the infection once and for all. The area now has a better chance at healing.
We started Delilah on her chemotherapy but stopped it when she became so lethargic after one dose. We are using Chinese Herbs instead to build up her immune system and are not going to do any further chemotherapy. Each dog is different when it comes to the Treatments. We can have 100 dogs that do well on the Palladia and then we can have one or two that do not tolerate it well at all. Delilah fits into the latter category.
As you can see from the picture, Delilah's eye is a little different than it was when she left. The area where she was radiated has caused her not to produce enough tears which we have to supplement. This is not a major concern because we do wound care about five times a day to keep the area clean and to keep her comfortable. Using a Tear Replacement is something we have to do with a lot of the older dogs we have.
Radiation is extremely expensive which is why most Animal Guardians or Rescues do not even consider the possibility of doing this. We have done two full series of radiation to stop Delilah's Cancer from taking over her eye and jaw bone. If the tumor invaded her jaw bone any further, she would not be able to open her mouth to eat or drink. The Radiation has stopped that from happening. We are very pleased with the dramatic results we have gotten from her Radiation Treatments. Some Tumors are not affected by Radiation and continue to grow. Delilah's responded favorably in reducing the size of the tumor and giving her a better Quality of Life.
Please, DONATE whatever you can so we pay off her large Radiation Bills. We need to focus on what is important which is giving our Girl the best Medical Care possible and Unconditional Love and Support. If you ever got to experience her Delilah Romp (as we call it around the yard), you would do anything in your power to heal this beautiful girl. Thanks for giving Delilah her only chance at Healing and finding Love. We greatly appreciate your Love and Support for our Abused Animals.
Learn about our other amazing animals