DELILAH (Chocolate Lab)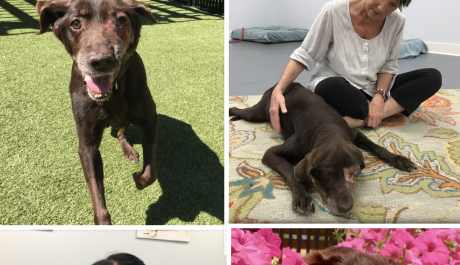 Beautiful DELILAH has crossed over the Rainbow Bridge. Our sweet girl loved Life and everyone in it. She knew she was Home with us and never wanted to be any place other than right with us.
Over the last month, she started to drop weight and was losing a little bit of her giddy-up in her step. She still would interact with everyone but began to sleep more and play less. We were each fine with that and considered this her time for extra snuggles. The last week, she had lost a lot of her appetite and was not her normal self. I soon realized she was telling each of us Good-Bye in her Special Way. I spent several hours with her to make sure there was nothing I had missed and realized when she laid her head in my lap that she was ready to go. She lived longer than anyone thought she would, and she had found unconditional Love with us and had her very own Home. Delilah had given her all and was ready to see Grace and all her other Buddies.
Delilah had one last Party of Red Velvet Cupcakes, Salami, and Turkey. She was in Heaven long before she left us and when she was ready, she laid down and Peacefully crossed over. It was one of the most beautiful passings. We each held her in our arms which is where she has been since the day I rescued her. Some dogs steal your heart the minute you look in their eyes. That was Dear Delilah. She will forever be part of our Noah's Arks Rescue Family.
Tonight before you go to bed, look up at the sky and look for the cluster of Stars that are not moving. That will be all of the Noah's Arks Rescue pups surrounding Delilah. She will be telling her Story of living in the Rehab Center and finally having the most special Home of all. Delilah always knew she was Home; it just took us a little while longer to realize we were all she ever wanted.
Thanks for caring and making her Journey to Heal and find Love, possible. We greatly appreciate your Love and Support.
Learn about our other amazing animals