DELILAH (Chocolate Lab)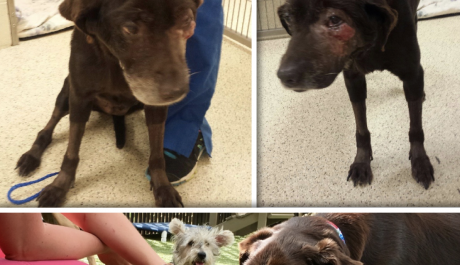 Sadly sweet Delilah has taken a couple of steps backward. A week ago her tumor became very reactive and wanted to bleed all the time. Her infection suddenly raised it's ugly head again, and the tissue around the tumor filled with fluid. Delilah was not feeling bad, but her tumor was angry and causing her eye to drain in addition to her tumor. We spoke to her Oncology Team and Surgeon and decided we needed to get our sweet girl back to Carolina Veterinary Specialists so they could get a handle on this.
Delilah had to be sedated so we could drain the abscess she had and get a good culture. We have a culture pending to determine if she is growing a different bacteria or the same ones she had before. She was started on a different antibiotic, and so far her drainage has improved. The other issue is that the tumor had begun to grow again. The original tumor was knocked back considerably from her first series of radiation. After consulting with her Oncology Team, we have decided she would benefit from another series of Radiation Therapy. This will be her FINAL series and Radiation. We had a new Cat Scan done to determine the best place to radiate to get the best results. We have already started the treatments, and Delilah is tolerating them well.
The biggest problem with Cancer and Tumors is that the tissue that gets infected is not normal tissue. Cancer and Radiation have made it hard to heal something that has tissue that is compromised. If Delilah was showing us, she was not able to tolerate any of the treatments we would not continue. The best part is that Delilah feels good compared to how she was when we rescued her. We know this is the last thing we can do for our girl. We just feel like she has so much more Life in her than we ever imagined and wanted to make sure we had done everything. This final round of Radiation is everything. Our hope is this will knock back her tumor enough to give her six months or more to enjoy her Life.
Delilah is happier than we ever thought was possible. She loves being at the Rehab Center and all the unconditional Love and Attention she gets daily. Her Life is full of Joy and Happiness. No one notices her tumor anymore because all we see is this amazing dog that Loves everyone. Delilah plays with her balls and all of the other dogs. When she gets tired, she finds the bed she wants to sleep in and takes a long nap. When she gets up, she goes for a long walk. She would stay outside and let the wind blow her hair all day long if we let her. Cuddling, Eating, Sleeping, and Playing are the things she cares about the most. Cuddling she gets all day long even if she is taking a nap. We Love wrapping our arms around this very special girl.
We are hoping this is a small setback and her Treatments will get her back on track. Delilah has been in the ER for the last week while she is undergoing treatment. Please, DONATE whatever you can so we can pay her bills and get her back with us where she belongs. Thanks for caring and making her Journey to Heal and find Love, possible. We greatly appreciate your Love and Support.
Learn about our other amazing animals