JOSEY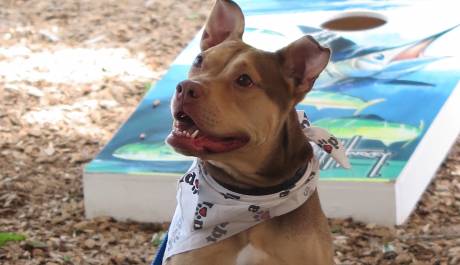 JOSEY is looking for her Forever Home.
Josey is one incredible girl who is looking for a family to call her own. She is a stunning creature who only wants to please you. Josey has been working with our trainer on her social skills. She is constantly improving with each new day.
Josey lived MANY years at the end of a TOWCHAIN that almost severed her throat. She is currently working on her focus and interaction with other dogs. She is excelling beautifully. She even mastered "paw or shake" within an hour! All this goes to show no matter what the abuse may be that Pit Bulls aim to please us.
Josey deserves a loving family to call her own. She should be the only dog. Josey is smart, loving & obedient. Josey is a gentle soul who has endured a lot in her life. All she wants to do is curl up in your lap and snuggle. If you think your home and family would be right for Josey, please, fill out our Adoption Application online to be considered.
Learn about our other amazing animals