BOONE / HOOCH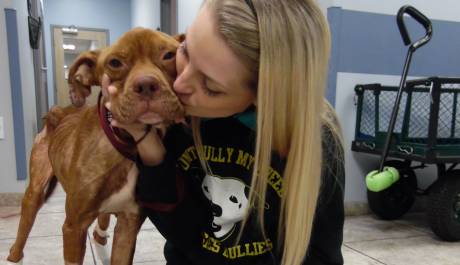 We all need some good news with the week we have all shared. I wanted everyone to share in the joy of seeing dear Boone able to stand up and walk. This wonderful boy has been so sick and weak that standing up was almost impossible. Look at him coming out of his cage for some loving. He is still extremely emaciated, but we are feeling very good about his prognosis. This time last week, he was on Death's Door with no hope of coming out of this. How he had the Strength and Will to live is something I will never be able to understand. He was tortured to the point of his body shutting down. The final step was dying. He did not give up HOPE that someone would save him.
We get messages daily about letting animals die and how cruel it is to keep an animal alive. Something everyone needs to learn and experience first hand is that animals can die any time they are ready to let go. We DO NOT keep them alive. If Boone and all the others we save wanted to die, they would have a long time ago way before they endured all the suffering they did to be here. They are here because they want to be here. They are not ready to die for whatever reason. By God, if I had been tortured like the animals we take in have, I would have given up a long time ago. Why hang around for more abuse and neglect? Dogs live day to day and forget about how bad yesterday was. Today is a new day, and if I can hold on long enough to live another day, someone is going to save me. We can't save them all but the ones that cross our paths we reach in and do everything possible to surround them with so much LOVE, they now have a reason to LIVE.
Boone is the perfect example of this. Medically he should not be alive today. He is only here because he wants to be here. How could anyone look an animal in the eye or hold one in your arms that can't see and put them down after all the suffering they have endured? The answer is, NOT ME and neither could most of the Noah's Arks Rescue Family. An animal can die in your arms anytime they want to, and some do that we take in. Most hold on for LOVE.
Boone still has a long way to go before he will be healthy again. He will be the hospital for several more months healing before he will be able to be adopted. He is still very weak, and his blood panels are in the low normal range. Boone's cultures grew several different bacterias that we are treating with regular antibiotics. The best news is that he does not have MRSA. The Wound Vac was a Life-Saver for our dear boy. It prevented his body from becoming septic. The Wound Vac was removed, and Boone had surgery this morning to close the large gaping area above his hip bone. Boone still has a long way to go, but this is progress.
We are still in desperate need of Donations to cover his Intensive Care bills. Please, Donate or Share with your animal loving friends, so we can give Boone all the medical care needed to Survive and Thrive.
Learn about our other amazing animals