EMMA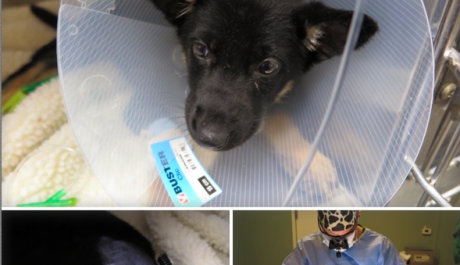 Sweet EMMA had her surgery yesterday and is doing well today. She had a bit of a rough start because her pain level was hard to control. Puppies are harder to control than larger dogs because it is real easy to give them too much. She is still in ICU and is resting comfortable. The good news is that she will wag her tail when anyone comes in to check on her.
Dr. King changed his strategy once he got in and saw how damaged one area of her spine was. Instead of two external fixatures, he only put in one along with bone cement. The fixatures are designed to keep her spine stable while the bones fuse together. We are still feeling very positive about her outcome. We will not know if this will work for several weeks. During this time, adorable Emma will be getting extensive rehab, acupuncture and laser treatments. She is at the beginning stage of her Journey to walk again. She is not out of the woods, but we feel since she can move her tail, and she has good pain proception in her limbs that the surgery should be successful. Always, keep our little Neuro pups in your prayers.
Thanks for making her Journey possible. Without her Guardian Angels, this would not have been possible. Thanks for caring and being part of her Journey to walk again.
Learn about our other amazing animals