TIBBY (Karakachan Puppy)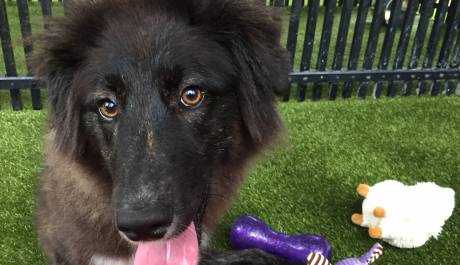 Sweet Tibby is improving but is still not out of the woods. Her culture results came back that she was growing three bacterias. One is MRSA. Her wound looks terrific with one tiny area that has not healed. She has a slightly elevated fever, and because of this, we have opted to put her back in ICU at Charleston Veterinary Referral Center under the care of Dr. Jennifer Au and Dr. Kristin Welch.
Tibby feels like a healthy happy puppy. She is showing no signs of having an infection which is wonderful. The main reason why I chose to put her back in the hospital is that we know down the road she will have another bladder infection and we need to keep our options open for her to have antibiotics available that she has never used before. Dr. Welch is talking to pharmaceutical companies to see if we can have them prepare an external antibiotic that will fight the infections she has without giving her IV antibiotic.
Unless you see Tibby and her zest for Life, you cannot imagine how happy this beautiful puppy is. Tibby is not suffering or in any pain. The only hardship she has is that she can't play with Archer and the puppies right now. That is a small price to pay for her to have an incredible Life.

The rescue that had her did not realize just how sick Tibby was until we explained how grave her situation was. Tibby is healthy in every other way. We are going to get through this, and we are not going to turn our backs on this puppy. We have to look toward the future and take the wise counsel of all the Specialists that are looking after her Medical care.
Tibby will have to remain in ICU until the wound has begun to granulate and she no longer has a fever. Please, Donate whatever you can so we can keep looking toward the Horizon with this beautiful, sweet puppy.
Learn about our other amazing animals