TIBBY (Karakachan Puppy)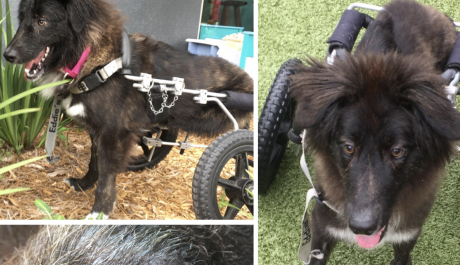 Tibby, Tibby, Tibby......Everyone loves this special girl. No matter what is happening in Tibby's Life, she is always happy. I am pleased to report that she is 99% well. I don't want to jinx anything by saying 100% because the last time I did that, she ended up in ICU with her MRSA infection. Her wound has healed, and she no longer shows any sign of having an infection. She has one more week on her antibiotics, and we are still cleaning her incision site with a ritual of antibiotic sprays for her infection. The cleansing sprays are working. Almost immediately, her wound started to granulate and was no longer red.
Tibby's has a Medical Team that is over her care. Every infection can be Life-Threatening since she is paralyzed from her waist back. We have already removed one of Tibby's deformed legs and will remove the remaining rear one in a couple of months once we are sure she no longer has an infection. The main issue is that Tibby tends to have bladder infections because she is incontinent. We have started her on a holistic protocol that should facilitate her body being able to fight the infections she been battling.
The reason why it was so crucial for us to remove Tibby's leg is that it was dislocated and deformed. Whenever Tibby went to the bathroom on her own, she could not get away from it because of her leg. That is the main reason why she always had a urinary tract infection.
This is the first week that Tibby has been able to get out and run around with the other pups in her cart. She runs and plays to her heart's content with Archer and the other pups. Happy does not begin to describe the joy we feel seeing these special pups run around loving Life. Every day is a blessing because they are in it.
Sweet Tibby will continue to be closely monitored all throughout the day at the Rehab Center to make sure she does not have any further outbreaks of any kind that crop up. Thanks for helping us with this beautiful baby. Tibby needed an Angel, and she got one in the Noah's Arks Rescue Community.
Learn about our other amazing animals