Primetime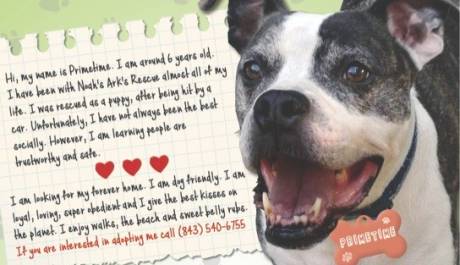 Did you see PRIMETIME has his very own feature in this month's local magazine on HHI? PRIMETIME is featured in CH2 Magazine this month. He is looking for his forever family.
We LOVE Primetime. He's an older boy looking for lasting love. He will do great in a home that is calm and relaxing. Children should be older and mature. He is dog-friendly. Even with being a little older Primetime still loves his walks. He loves to play fetch with sticks and run around in the warm sunshine. Primetime does have trust issues with people, but once he gains your trust he is the most loyal dog you will ever encounter.
Primetime is brilliant with his obedience. He aims to please. He will make an incredible companion. Primetime just needs that special someone who will believe in him.
Learn about our other amazing animals