Primetime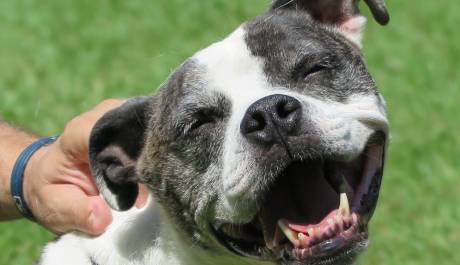 PRIMETIME is looking for his forever family. It is a long time coming for this most amazing pup. PRIMETIME is currently in Obedience and Socializing Training, and he is doing incredibly well. PRIMETIME loves to please and then shower you with kisses in his gratitude.
PRIMETIME has had many hardships in his life to battle, but he's a true survivor. PRIMETIME is very loyal to those he trusts. It can take him a while, but in time he will forever be your best friend.
PRIMETIME needs a strong handler, someone who continue to socialize him, but also someone who will strongly continue his obedience daily. PRIMETIME enjoys playing with other dogs, but he will also try to become dominant, therefore again, a strong adopter, who is a leader is someone needs.
PRIMETIME will make an incredible life mate. He will be obedient, loyal and forever loving.
If you are interested in adopting PRIMETIME, please complete our adoption application.
Learn about our other amazing animals