Primetime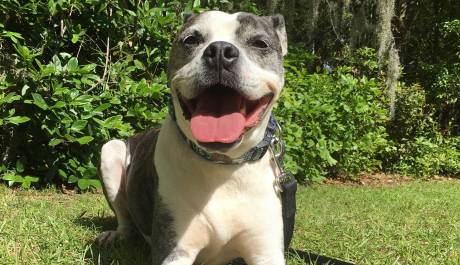 PRIMETIME is looking for his Forever Home.
We have had Primetime too long. But, in the past few months, he's made GREAT improvements with his constant socializing with new people. Meeting new people who are just strangers to him, are not his favorite pastime. BUT, just like ALL of our Noah's Arks Rescue pups, we don't give up. We continue pushing them. Thus allowing him to see the world is safe and loving.
Primetime is the MOST obedient pup we have in our NAR family. He is dog-friendly. He loves to run and play with other dogs who are not dominant. He is smart and eager to please. Primetime is an older pup who needs a quiet home. He will LOVE his forever companion. He will ALWAYS be loyal. Going slow with Primetime is the key to his success. People are his only obstacle.
Primetime is an extremely happy boy. He is spoiled within his NAR family. He receives continued training from our trainer. He gets play time with other dogs. He also gets plenty of belly rubs and sweet affections.
Primetime deserves a family to call his own. If you feel, you are right for this amazing boy. Please fill out our Adoption Application online to be considered.
Learn about our other amazing animals