Primetime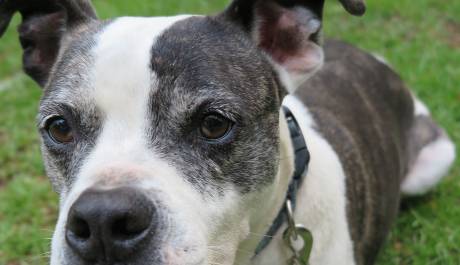 PRIMETIME Update!

We appreciate the media attention given to our PRIMETIME last week in the Enquirer. We wanted to let everyone know and what the article didn't say is how happy Primetime is currently. Yes, we've had Primetime a while and honestly too long. In finding his forever home we want it to be successful and a happy one for him. This requires LOTS of patience from his new potential family.

Animals just like people have their own quirks. Primetime spent much of his young life in and out of medical facilities. Sadly this has made trusting humans not his favorite pastime. We see this a lot in our abuse cases. We humans are the abusers. In most cases the animal is forgiving and resilient, but in some animals it's too much and it takes longer to establish trust.

Primetime is an amazing boy. He's by far one the most obedient dogs you will ever meet. He's silly and fun too. He loves to chase sticks and go for morning walks. He's very loving and loyal. It takes some time to learn these incredible traits in Primetime, which is why it's taken longer in finding him his forever home.

We will find Primetime his forever family. We won't give up. In the meantime he is in a great place where he gets to run, play and receives LOTS of love from those he trusts. If you think your home and family would be right for this special boy, please, fill out our Adoption Application online to be considered.

Thanks for caring and making his Journey to Survive and Thrive one filled with happiness and security.
Learn about our other amazing animals