Lil MAMA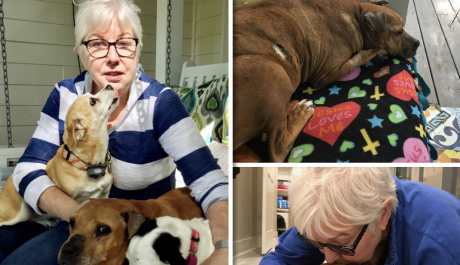 It is with incredible sadness we have to let everyone know that Lil Mama has crossed over the Rainbow Bridge. We were able to give this beautiful pup six more weeks of Life surrounded by the Family that loved and adored her. The last few days she became swollen all over, and it appeared the tumors had begun to grow. She was having a hard time breathing and was not able to run around like she had been able to do.
We spoke to her Family and her Specialists, and they agreed she did not have a good Quality of Life. Dr. Marikay came out and assisted Lil Mama with her Journey. She was relaxing with her Family on the Swinging Day Bed outside that she loved. Her breathing had gotten so bad that she floated away in the arms of my Sister, Priscilla that had been her Guardian Angel for the last four years.
To say Lil Mama ran the Roost is an understatement at Priscilla's. She had to approve or disapprove any new dog that came to the house. When a dog first came in, Lil Mama would come unglued. We would have to keep her separated for a couple of days and then she would be okay with the new dog. Those first couple of days were scary for everyone until Lil Mama settled down.
Lil Mama endured more hardships at the hands of Mankind than any animal should have to. She was used for breeding Bait and Fighting Pitbulls. She lived in a basement, in a kennel that was way too small for her which is how her limbs became so deformed. We did corrective surgery on the worst ones. Lil Mama never let her surgery get in the way of her new Life. She loved her new Family and the freedom she had.
Our special girl will be forever missed. She will always be part of Noah's Arks Rescue and will be the face of the Mother Pitbull that nurtured her pups until they were taken away. Tonight when you look up into the beautiful night sky, watch for the biggest star that goes left and then right all across the Heavens. That will be our beautiful, beautiful Lil Mama still doing her crab walk looking for puppies that need the ultimate Mother to love and raise them. Thanks for making her Journey to Heal and find Love, possible.
Learn about our other amazing animals