Lil MAMA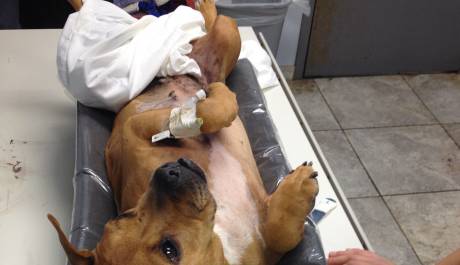 Our sweet Lil Mama has sure got her very own set of obstacles she has to deal with every time she wants to stand up and walk. Between her hip surgery and infected pad on her front leg plus the legs that hurt all the time from the bowing, you would think she would not even want to get up in the morning. That is far from the truth. The Reality is that she has dealt with pain all her Life. She has not had many days when pain was not part of her existence. She adapts and adjusts all throughout the day.
Lil Mama loves being free and having the ability to play with little pups or small dogs. When she is in play mode, we have to watch her like a hawk and keep her in a confined area, so she does not hurt herself. She will play for about 30 seconds and then will stop and lay down. Once she stops, all the pups lay next to her and wait for her to start playing again. Pain is not going to stop this amazing dog from living her Life FULLY. No matter what happens, she is all in.
Since Lil Mama cannot bark or make normal sounds to let us know she is in pain, we have to look for other signs of discomfort. Muscle twitching or facial expressions are things we look for that would let us know she is uncomfortable. We LOVE this incredible dog and are doing everything possible to give her the Life she has always wanted.
Lil Mama goes in and out of the Hospital all the time, so she gets to experience a Home. She is going to be with us for a very long time dealing with all of her medical issues. Being Loved, Adored and Cared for while this is happening is our Top Priority. Quality of Life over-rides everything. When Lil Mama is in the Hospital, she is usually in someone's lap helping them with their computer work as you can see in some of her pics.
We are in desperate need of Donations for this adorable pup that has endeared herself to everyone. We need funds so we can keep on going with the care that she needs. She has about a year of surgeries and rehab to go before we are done. We haven't even come close to paying for all that has already been completed. Please, Donate any amount to help us stay on top of this wonderful dog's care. She is doing the hard part; we just have to pay for it. Any amount is greatly appreciated. If you cannot Donate, we understand. Please, forward to all of your Animal Loving Friends to give them an opportunity to share in your Journey.
Learn about our other amazing animals