ROXIE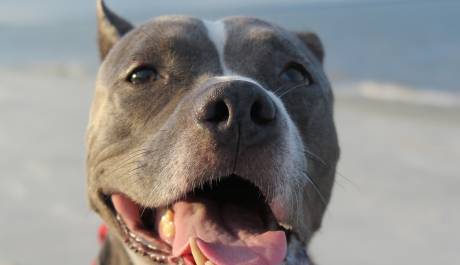 Sweet Roxie is on her third round of chemotherapy and is doing incredibly. The Mega-Esophagus that she developed after surgery has gone away completely. We still feed her upright to make sure we do not have any issues, but the x-ray shows it is gone. Roxie dropped a little weight, but that is being put back on as you can see from her pictures. It is hard to believe this is the same dog we rescued six weeks ago. Roxie's Owner was preparing to say good-bye to her when we were contacted. Roxie has not grown any new tumors and the tiny ones she has have stopped growing. We are hopeful the next round of chemo will start knocking them pack. The main focus is that she does not have new ones and the ones she has are the same.
Happiness does not even begin to describe how excited we all are for this amazing dog and her Guardian. These two are joined at the hip. Every two weeks we meet half way between McDonough and Charleston to pick up Roxie to get her to her sessions. She has three more rounds and then we will access her situation to see if she needs more.
Roxie is one of the sweetest dogs that loves everyone. I am so glad we stepped up to give her the best possible chance at living a longer life. Everything we had hoped for is happening. Sweet Roxie is happy and healthy and hopefully will be with us for a very long time.
Thanks for caring and being part of her Journey to Survive and Thrive. We greatly appreciate your kindness and generosity.
Learn about our other amazing animals